Watch the First Full Trailer for 'The Hunger Games: Mockingjay — Part 2'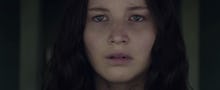 In the first full-length trailer for the final Hunger Games installment, Mockingjay — Part 2, the characters are preoccupied with the end.
"My dear Miss Everdeen, make no mistake," President Coriolanus Snow menacingly informs a terrified Katniss (Jennifer Lawrence). "The game is coming to its end."
"Our future starts tomorrow at dawn, when we march together into the Capitol," one general for the rebellion says. Mockingjay — Part 2 follows the final battles of the districts of Panem against their oppressive overlords, led by Snow. Katniss, a symbol and a general, leads the charge in one final uprising.
This focus on finality is interesting, considering series star Josh Hutcherson let slip at San Diego Comic-Con last month that there's studio interest in additional films. The world of Panem — both pre- and post-Katniss Everdeen — is rich enough to imagine future installments exploring beyond the Hunger Games story.
Regardless of whether this is the last film in the series, it's certainly the last of author Suzanne Collins' original story. Judging by this trailer, the tale is ending in spectacular fashion.
"Tonight, turn your weapons to the Capitol," Katniss says in the trailer. "Turn your weapons to Snow."
The final installment in the Hunger Games series — for now, at least — hits theaters Nov. 20. Watch the full trailer below.