Judy Huth Lawsuit Could Have Bill Cosby Testifying Under Oath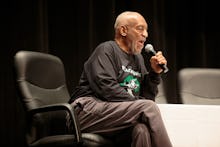 Bill Cosby couldn't dodge his demons forever. 
The controversial comedian may soon have to testify in court over recent sexual battery allegations after his lawyers failed to get thrown out a lawsuit brought against him. In the suit, a woman named Judy Huth says the comedian forced her to perform a sex act on him 41 years ago, when she was 15, at the Playboy Mansion in Los Angeles, CBS Los Angeles reported.  
The California Supreme Court on Wednesday rejected a plea by Cosby's lawyers to have the lawsuit dismissed for "procedural irregularities" according toe CBS Los Angeles. This means Cosby, 78, who has faced allegations of rape from dozens of women but has so far not been criminally charged, could have to testify under oath. 
If Cosby ultimately testifies, it would be the first time the comedian has spoken under oath about past alleged sexual assaults since the 2005 deposition in which he admitted he gave at least one woman sedatives before having sex with her. 
"We are looking forward to Mr. Cosby answering questions under oath at his deposition and we will continue to seek justice for our courageous client, Judy Huth," Huth's lawyer, Gloria Allred, said in a statement, according to People. "We believe we have a right to take his deposition in this civil lawsuit." 
Allred told NBC News she hopes to question Cosby within the next 30 days. 
Huth sued Cosby in California last year for allegedly molesting her in 1974, but the entertainer has since evaded a deposition. CNN reports that in the lawsuit, Huth recalled how she met Cosby and how he invited her to sit next to him on a bed at the Playboy Mansion. "He then proceeded to sexually molest her by attempting to put his hand down her pants, and then taking her hand in his hand and performing a sex act on himself without her consent," court documents said. 
Huth is one of more than three dozen women who have stepped forward to demand justice for alleged sexual assault at the hands of Cosby, for encounters dating back to the 1960s. About two dozen have filed formal suits against the entertainer.