These Badass Women Are Changing What We Think of When We Think of Drummers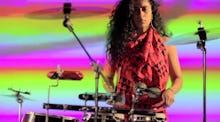 When most people envision a drummer, they likely picture a man: wiry body, bloodied hands, sweat dripping from his beard. 
It's the picture we've seen time and time again in magazines, advertisements and music documentaries. Few instruments are more gendered than the drums. But a group of brave men and women are working to break that stereotype.
For example, Tom Tom magazine, which prides itself on being the only magazine in the world "dedicated to female drummers." 
For the past six years, the publication has highlighted women who are pushing the world's most visceral instrument into new territory. Now, it's much bigger than words on paper. Tom Tom is at the helm of a growing movement to open up the drumming playing field.
One day soon, when we think about drummers, these images will come to mind: 
Breaking the "Brotherhood of Drum." Mindy Abovitz, the mag's founder and current editor-in-chief, first conceived of the idea for Tom Tom while scrolling through the Google search results for "female drummer." What should have appeared were interviews and celebrations of Sheila E. and Hannah Ford, drummers for Prince; Stella Mozgawa, drummer of Warpaint; Venzella Joy Williams, the drummer in Beyoncé's live band. What she got were articles like "Can women really play the drums?" and "Top sexiest drummers of our time."
"I was really disappointed with the representation," Abovitz told Mic. She was working with the Willie Mae Rock Camp for Girls at the time, meeting a lot of budding female musicians who Abovitz felt could make some serious waves if they could get a little attention. "I wanted to essentially educate and show the world, and the drum industry and the music industry what was my reality," she said. "There are a ton of great up-and-coming musicians and we deserve respect."
Abovitz believes drumming has connotations of masculine traits: "aggressiveness, being sweaty, being physically strong, being confident, sitting with your legs spread open, being in clubs late at night, being in command of a multi-piece instrument with lots of moving parts," she told Mic. She feels media and marketing are the best way to break this type of socialization. And by presenting a more equal picture of drumming in music media, more girls will be able to see themselves behind the set and start to change the tune.
Her work has won a lot of allies. "The only reason the magazine is as big and awesome as it is is because from day one, people who feel exactly like me are like, 'Fuck this shit. Let me help you. What can I do for you?'" Abovitz told Mic. "If it's photography or illustration or research — people just come and help and that's been insane."
One of those allies is Kiran Gandhi, previously the drummer for M.I.A., Thievery Corporation and the artist behind the upcoming Madame Gandhi project. She heard about Tom Tom in 2010 and loved what she read. When she reached out to show her appreciation, Abovitz immediately responded and invited her to play a gig opening for Kim Thompson, Beyoncé's drummer at the time. Obviously, Gandhi jumped at the opportunity.
"It was so empowering," Gandhi told Mic. "To go and hang out with people who look like you and who are doing things that are similar — for a woman of color playing the drums: It's a rare thing. You're just used to being the only one. It just feels so good to have a community."
She became Tom Tom's Washington, D.C., correspondent, spreading the "Gospel of Tom Tom." She began interviewing female drummers who toured through the city and eventually started Rad Ladies That Drum, an all women's drumming festival that ran for three years in the city. It gave huge visibility to a variety of female musicians playing a variety of styles — Brazilian, punk, African. 
Providing this kind visibility, Gandhi feels, is one of the most important aspects of Tom Tom's mission. Girl drummers need to see other women and read their stories, so that if nothing else, they know it's possible. "That, to me, is the special sauce," Gandhi told Mic. "No matter what, my class of musicians is going to be held to a lower standard than men because no one sees women in playing. The fact that I even have sticks in my hand is good enough for some people." She wants the next generation of girls to see her play and think, "'What! I can do way better than that! I'm going for it,' and kick my ass," she told Mic. "That's the dream."
That will happen. But Tom Tom has even bigger plans. The magazine has already launched Drum Academy, a school in Brooklyn that provides lessons to young shredders. Abovitz describes it as a "thought lab" trying to produce material "to help any school around the country open their doors wider for women and girls."
The company will also be launching a new segment in the fall called "Banned," which will examine areas around the world where the forces discouraging women from playing drums are especially intense. "We're going to speak to women whose religions, families and societies forced them to stop playing drums, either by threatening or excommunicating them," Abovitz said. 
She told Mic the story of all-girl band Random Stars, out of the United Arab Emirates, that won a Battle of the Bands for high school kids. "After they won they got death threats and rape threats on their Facebook page. And whether for their safety or another threat, there was a fatw? placed against them by their government that said that they can no longer play music." It acted as the catalyst for a much deeper exploration that seeks to answer the question: Why aren't more women playing? 
"I don't get it," Abovitz said, but she's investigating at home and abroad. Nothing about drums should be preventing women from picking them up. And if she can help girls see that visionary women like Cindy Blackman (Lenny Kravitz, Ravi Coltrane), Janet Weiss (Sleater-Kinney) and Evelyn Glennie (the world's first full-time solo percussionist) have helped developed the instrument as much as most men, Abovitz will have achieved her goal. "I think it's a beautiful thing," she said. "More guys and girls playing together can only make the world a better place."