Shooting at Louisiana Theater Leaves 3 Dead and 9 Injured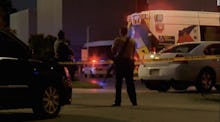 A gunman in Lafayette, Louisiana, who has been identified as 59-year-old white man John Russell Houser, killed three, including himself, and injured nine others during a shooting at a movie theater Thursday night. Houser opened fire at a 7 p.m. screening of Trainwreck. 
The two victims of the attack were identified as 21-year-old Mayci Breaux and 33-year-old Jillian Johnson.
Louisiana State Police spokesman Sgt. Brian David has made a public statement in which he claims, "There's nothing to believe that there was any kind of motive."
David told CBSNews that the injured were being transported to local hospitals. Meanwhile, the state's governor, current Republican presidential candidate Bobby Jindal, offered his prayers for the victims and arrived on the scene later that evening. 
"When these kinds of acts of violence happen in a movie theater, when there's no real good reason why this kind of evil should intrude on the lives of families who are just out for a night of entertainment, I know a lot of us are horrified and shocked," said Jindal, the New York Times reported. "This is an awful night for Lafayette. This is an awful night for Louisiana. This is an awful night for the United States."
This is an ongoing story and will be updated.