Converse Finally Went and Fixed the Biggest Problem With Chuck Taylors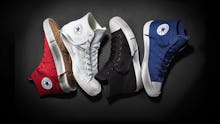 You'd think it wouldn't have taken so long.
Finally, after almost 100 years, Converse is updating the design of its famous Chuck Taylor All Star sneakers to make them — wait for it — more comfortable.
Yes, Converse is fixing the one biggest problem with Chucks. The longtime sneaker brand announced a new style, call the Chuck Taylor All Star II, which will feature a revamped, cushier sole with Lunarlon technology courtesy of its parent company, Nike. (Nike has owned Converse since 2003 — who knew?)
"The launch of Chuck II is a groundbreaking moment for Converse as we continue to move the brand forward through creativity and innovation, ushering in not just a new sneaker, but a completely new way of thinking," Jim Calhoun, Converse's president and CEO, said in a statement.
The gist of the corporate-speak: Converse has realized that most people who wear them find them kind of uncomfortable. As Bloomberg put it, this oh-so high-tech innovation comes after "a billion sore feet." Converse have been cool, but their thin flat soles have long made them difficult to wear.
On the other hand, one thing that's made Chuck Taylors so enduring is the commitment to unchanging tradition. The Converse Rubber Corp. was founded in 1908 and introduced the All Star sneaker, meant for basketball, in 1917. Since then, the flat-soled, high-top look has stayed essentially the same. 
As Complex put it in 2013, "In an era when sneaker design is changed yearly, the concept of a design (with small changes) lasting for 96 years is unheard of. Most brands haven't lasted 96 years."
The unchanging design of the All Star (which added the "Chuck Taylor" in 1932, after a high school basketball player-turned-Converse salesman) is what's given them their nostalgic, vintage appeal. With a retro yet simple design, Chucks have appealed to rock stars, athletes and fashion bloggers alike for decades, conveying a simple "cool" factor while taking on the aesthetic of whoever wears them.  
Consider how your dad wearing them somehow doesn't diminish their status, and you'll understand the power of Converse.
That coolness is what's kept them going so long — even when nearly everyone could agree they made your feet ache after a few hours of wear. No more. Calhoun, Converse's CEO, told Bloomberg he had heard "I love them, I just wish I could wear them for more than a couple hours" one too many times. 
Now, with improved soles but the same cool look, for $15 more than the originals, we can wear our Chuck II's all day. Get ready to see your Instagram flooded with shoe selfies ... 
h/t Bloomberg