A Hulk Hogan "Racial Tirade" Just Got Him Fired From WWE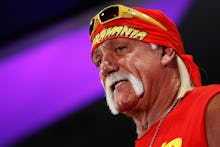 This story has been updated with an official statement from WWE: 
"WWE terminated its contract with Terry Bollea (aka Hulk Hogan). WWE is committed to embracing and celebrating individuals from all backgrounds as demonstrated by the diversity of our employees, performers and fans worldwide."
The WWE has officially cut all ties with long-time pro wrestler and reality star Hulk Hogan. The move is being described as a preemptive decision by the WWE to distance themselves before a supposed audio file containing a "racial tirade" from Hogan before it is leaked to the media.
The National Enquirer claims to have sources with access to the audio file, and it doesn't sound too good for Hogan, who has become a recognized name in wrestling and society:
Complex originally reported the wrestling website removed any mention of Hogan, deleting his entire Hall of Fame page and removing him as a judge on WWE's Tough Enough reality TV series.
Currently, Hogan's landing page on the WWE website only says, "You are not authorized to access this page."
Hogan has used racial slurs in the media before, including an appearance on SiriusXM's Shade 45 where he casually called Lil Wayne "n*gger" when the two were partying together in Miami. He explains the situation on national radio at the 1:55 mark below (this is not the alleged audio file in question):
This isn't the first time the WWE has severed relationships with its stars for getting out of hand. Former professional wrestler Abraham Washington was cut loose from WWE when he alluded to Kobe Bryant being a rapist in a poorly chosen joke on Monday Night Raw.
Hogan has since tweeted what seems to be an anticipatory prayer before he receives the ultimate online smackdown for the alleged audio file containing his racial tirade: