5 Oh-So-Horrifying Things That Could Happen When Miley Hosts the VMAs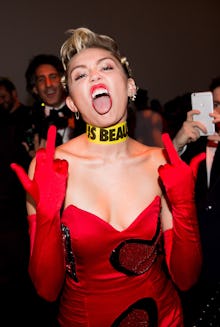 This week, MTV announced that Miley Cyrus will host this year's Video Music Awards, and of course, waves of concern commenced almost immediately.
"It's not going to be safe for children to watch," Tim Winter, president of the Parents Television Council, told Gossip Cop. "With Miley's shtick, it's probably going to be very edgy, very profane, very sexually explicit." 
And it's true: Miley has made no attempt to hide her "edgy," undeniably sexual adult self, which clearly deviates from her squeaky clean past as a Disney star. Here are just five things Cyrus might do at the VMAs, against which pearl-clutchers and and those stuck in the 1950s may want to protect their children.
She could raise awareness about homeless youth.
When Miley won the video of the year VMA in 2014, she also famously sent a young man who had experienced homelessness to accept the award on her behalf. The man — Jesse — explained that he was one of 1.6 million runaways and homeless youth in the United States, then directed viewers to Miley's Facebook page, which included information about organizations seeking to help this population. 
What if Miley — in a throwback to this moment — welcomes even more homeless youth onto this year's stage? She might force us to acknowledge that destructive stereotypes about homeless individuals are not only false but also hateful, or to recognize that a disproportionate number — as many as 40% — of homeless youth are LGBT. She could even ask us to support the organization she created, the Happy Hippie Foundation, which seeks to address this issue.
Perish the thought.
She could increase the visibility of transgender and gender-expansive individuals.
On June 15th, Miley and the Happy Hippie Foundation launched a campaign with Instagram called #InstaPride. The project profiles "transgender and gender-expansive individuals from all walks of life" to encourage viewers to learn more about "the power of acceptance, self-expression and freedom," no matter one's gender identity, according to the foundation's website.
What if Miley incorporates theses images into the VMAs somehow? What if viewers are confronted with the smiling, self-confident faces of some of the most underrepresented individuals in the country?
Madness would likely ensue.
She could discuss gender nonconformity.
Miley has spoken out about her gender identity — or, more specifically, rejecting labeling her gender — before.
"I didn't want to be a boy," she told Out of her time reflecting on gender. "I kind of wanted to be nothing. I don't relate to what people would say defines a girl or a boy, and I think that's what I had to understand: Being a girl isn't what I hate, it's the box that I get put into."
And Miley is not afraid to publicly resist that very box.
"I feel completely like I'm not tied to a gender or to an age," she told Good Morning America in May. "I feel, you know, like an infinite cosmic thing and that's what I want people to feel."
What if she discusses this identity during the air? How are we going to explain these sort of views to impressionable teenagers?  What if she allows young viewers who feel similarly to understand that they're not alone?
Certainly, our cisnormative society cannot handle such a rash display of liberation.
She could force us to recognize that sexuality is a spectrum.
Given the many pervading myths about bisexuality and sexuality itself, Miley's sexuality has posed quite the conundrum to mainstream society. While Miley was previously engaged to a man and has dated other high-profile male figures, rumors have recently circulated that she's dating Victoria's Secret model Stella Maxwell. But Miley seems to define her sexuality beyond seeking specific partners.
"I am literally open to every single thing that is consenting and doesn't involve an animal and everyone is of age," she told Paper magazine in June. "Everything that's legal, I'm down with. ... I don't relate to being boy or girl, and I don't have to have my partner relate to boy or girl.'"
What if the singer walks the red carpet hand-in-hand with Maxwell? What if they, you know, kiss — in public! The act of love would probably incite the rapture. We can't have that.
She could push back on idealistic standards of beauty.
Miley has notably pushed back on stereotypical standards of feminine beauty.
"Everyone to me seems like Vanna White," she said in a 2014 W magazine interview. "I'm trying to tell girls, like, 'Fuck that. You don't have to wear makeup. You don't have to have long blonde hair and big titties. That's not what it's about. It's, like, personal style.'"
This authentic vibe extends to all forms of her public presentation.
"There's something empowering about what I'm doing right now," she told Rolling Stone of her unique style. "Especially having 'short hair don't care.' I think it's empowering for girls. Because there's not one thing that defines what beauty is."
Additionally, Miley has never been afraid of looking less-than perfect. In fact, she often posts honest photos on Instagram to prove the point that nobody is flawless — not even celebrities. 
A woman being authentic and actually embracing their natural looks? Why, Miley just may refuse to live up to the idealistic, hyper-feminine, over-sexualized standard we normally impose on female public figures — will viewers even know how to interpret a woman publicly taking pride in and enjoying her appearance rather than submitting to the male gaze? Could people actually go blind at the sight?
As she told the Associated Press in May, "I'm not just saying you be yourself and I'm going to go be Miley Cyrus. I'm saying I'm going to be my [expletive] self, too."
And if this authentic self continues to involve raising awareness about crucial issues and underrepresented identities, then encourage Miley to do just that, at the VMAs and everywhere she goes.
Correction: July 27, 2015