John Russell Houser Identified as Louisiana Shooter. Updated Details on What We Know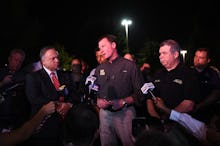 John Russell Houser, the man identified as the gunman in Thursday's deadly shooting at a movie theater in Louisiana, spent some time in a mental health facility in Alabama in 2008 and 2009 and was an outspoken conservative on social media, according to KATC. 
Houser liked a group called "I hate liberals!" on his Facebook page and appeared to have tweeted about his fondness for the Westboro Baptist Church and his hatred for what he said was liberal Internet censorship, however the Twitter page reportedly linked to the shooter has not been verified. 
Houser frequently commented in online forums about immigration, race, free speech and America's direction in the world. His posts frequently took jabs at "mainstream media" and talked about his appreciation for the Greek nationalist party Golden Dawn, according to the Daily Beast. 
In 2008, authorities were called to Houser's home, where his wife told police her husband was "mentally disturbed" and had a "history of mental problems.. .and currently is prescribed medication to take daily," NBC News reported. She told police that her husband would sometimes "[forget] to take his medication and sometimes he forgets to eat, which affects his behavior."
Houser attended Faulkner University, a private Christian university in Montgomery, Alabama, a spokesman for Faulkner confirmed to Mic. 
"John Russell Houser was a student at the Jones School of Law beginning in the fall of 1994," the spokesman said. "He graduated in the spring of 1998, prior to the law school receiving ABA accreditation."
In 2006, Houser was denied a concealed-carry permit in Alabama. The gunman's wife had also removed firearms from the couple's home because of his mental state, however it was unclear what year, according to the Associated Press. 
Houser was from Alabama and reportedly a member of the Tea Party Nation, a conservative activist group, NBC News reported Friday. 
Houser, who had been staying in a hotel in Lafayette since early July, was seated among about 100 moviegoers for a screening of Trainwreck at Grand 16 Theatre when, just after the previews ended, he stood up and shot 13 rounds, injuring nine people and killing two. 
Houser ultimately turned the gun on himself and took his own life. "It appears he was intent on shooting and escaping," Lafayette police Chief Jim Craft told reporters early Friday, according to CNN. "The quick law enforcement response pushed him back into the theater."  
Police described the shooter as a "drifter" who probably acted alone. Houser was from Phenix City, Alabama, and had a criminal record that included an arson arrest and selling alcohol to a minor. The record was about 10 to 15 years old, according to NBC News. 
Authorities discovered several "disguises" inside the Motel 6 hotel room where he had been staying. Among the items they found inside the room were wigs and glasses. 
A profile page on the Tea Party Nation's website listed John Russell Houser as a member since June 2013. His hometown was listed as Phenix City, the Daily Beast reported. 
Police identified the victims as 21-year-old Mayci Breaux and 33-year-old Jillian Johnson. 
Two people who were in the movie theater with the shooter have been praised as heroes after one of them covered her friend to protect her from bullets and the other pulled the fire alarm. The women, Ali Viator Martin and Jena Legnon Meaux, were both teachers at Jeanerette Senior High and were both shot in the leg. They are expected to recover, according to the Advocate. 
"Who could imagine on a Thursday evening sitting there watching a movie in Lafayette, Louisiana, and have something like this happen," Iberia Parish Schools superintendent Dale Henderson said of the women, the Advocate reported. "You're not in that mode of thinking, but evidently, they both reacted very well and very quickly."
July 24, 2015 3 p.m. EDT: This story has been updated.