These Are the 2 Women Killed in the Lafayette 'Trainwreck' Shooting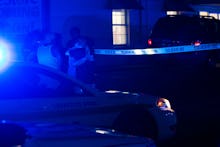 On Thursday night, during a viewing of Trainwreck, 59-year-old John Russell Houser opened fire in a Lafayette, Louisiana, theater, killing two people and injuring nine other, before killing himself.
The victims who died in the attack were two young women: 21-year-old Mayci Breaux and 33-year-old Jillian Johnson. 
Breaux worked at clothing store Coco Eros and on Friday morning, her colleagues posted a tribute to the company's Facebook page.
On her Facebook page, Breaux states she attended Louisiana State University at Eunice and was in a relationship with Matthew Rodriguez, whom she is pictured with here: 
The second victim, Jillian Johnson, lived in Lafayette and was described by one of her friends on Facebook as a "brilliant photographer, artist, designer." According to her page, she was married to Jason Brown, whom she is pictured with below:
.