Hillary Clinton's Email Problems Are About to Get a Lot More Serious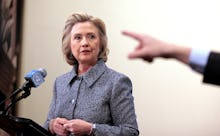 Concerns over Hillary Clinton's use of a private email account during her time as secretary of state have prompted two inspectors general to ask the Department of Justice to look into the potential mishandling of classified material.
The New York Times reported late Thursday that investigators at the State Department and in the intelligence community sought a "criminal investigation" after filing a memo in late June suggesting "hundreds of potentially classified emails" had passed through Clinton's account. However, the Justice Department on Friday denied the Times story, saying the request to examine potentially classified material in Clinton's emails was not criminal in nature.
The Wall Street Journal also reported on Friday that Hillary Clinton "sent at least four emails from her personal account containing classified information during her time heading the State Department," quoting from a letter sent by the inspector general of the intelligence community to members of Congress. A spokeswoman for the inspector general told the Journal the emails "were classified when they were sent and are classified now," contradicting claims by the Clinton campaign that she had never transmitted classified information.
These developments mark the latest chapter in a monthslong saga over Clinton's use of a personal email server and domain instead of a more secure, government-issued address. In her four years as the top U.S. diplomat, Clinton never registered an official email account. Though Clinton has insisted she only did so for the sake of convenience, her decision had the effect of hiding possibly sensitive communications from potential governmental oversight or media inquiries in the form of Freedom of Information Act requests.
Trust issues: Quizzed on a number of occasions about those correspondences, Clinton has repeatedly denied having knowingly passed along any classified information from her account. In December 2014, before the initial public revelation, she provided the State Department with the 55,000 pages of email she had not deleted after leaving her post in 2013. A small number of those communications have been retroactively redacted and marked classified.
Both political adversaries and concerned allies have questioned how the controversy surrounding the email episode will affect Clinton's 2016 presidential campaign. A number of early polls, both national and in key swing states, have suggested that, despite her significant lead in the primaries, voters do not consider Clinton "trustworthy."
In an interview with CNN on July 8, Clinton pushed back. "People can and do trust me," she said. "This has been a theme that has been used against me and my husband for many, many years. And at the end of the day, I think voters sort it all out."
Fighting back: Clinton and her campaign have responded fiercely to any attack on the candidate, real or perceived, from the political press or Republicans.
On Thursday night, the New York Times altered the tone and content of their story after fielding complaints from the Clinton campaign. The updated edition, which is now online, suggests a future investigation would center on Clinton's "connection" to the email account, rather than her personal actions.
The changes "were a response to complaints we received from the Clinton camp that we thought were reasonable, and we made them," reporter Michael Schmidt told Politico on Friday morning.
In its own public comments on Thursday's story, the campaign doubled down on what Clinton first argued during a tense news conference at the United Nations on March 10, when she said, "I went above and beyond what I was requested to do."
"Contrary to the initial [New York Times] story, which has already been significantly revised, she followed appropriate practices in dealing with classified materials," Nick Merrill, a Clinton spokesman, said in a statement emailed to reporters and published by Business Insider. "As has been reported on multiple occasions, any released emails deemed classified after the administration have been done so after the fact, and not at the time they were transmitted."
Rep. Elijah Cummings, the ranking Democrat on the House Select Committee on Benghazi, issued a statement on Friday morning saying the New York Times story was incorrect and backed up the campaign's assertions that Clinton never sent or received classified information.
"I spoke personally to the State Department inspector general on Thursday, and he said he never asked the Justice Department to launch a criminal investigation of Secretary Clinton's email usage," he said. "The Benghazi Select Committee has obtained zero evidence that any emails to or from Secretary Clinton were marked as classified at the time they were transmitted."
What's next: Any criminal investigation by the Justice Department into the circumstances surrounding Clinton's personal email use would create a political quagmire for both the administration and the Clinton campaign.
Responding to the campaign's Friday morning statement, Republican National Committee communications director Sean Spicer spelled out the GOP plan of attack in stark terms:
If the DOJ pursues a case, those lingering clouds of suspicion could rain harsh and politically damaging new revelations on the candidate as the primary season swings into full gear. Should investigators reject the inspectors general's request, Republicans can be expected to implicate not only Clinton but the Obama administration in a coordinated cover-up of any alleged wrongdoing.
Whatever the outcome, Clinton once again finds herself bogged down in a potential scandal largely of her own making. There is, for now, no timeline for when the Justice Department will make its decision, or any indication they'll make it public at all.
July 24, 2015, 1:44 p.m.: This story has been updated.