The Sexy Tumblr Trend That's Bringing Couples Together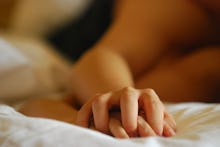 As much as we all may secretly watch porn, not everyone loves the hardcore offerings on sites like Redtube and Pornhub that feature unrealistic body parts, overused tropes (hello, pizza delivery man) and sex acts that few people actually enjoy. That's why some smut enthusiasts are turning to another website to get their XXX fix: Tumblr. 
The social media platform, better known for its confessional diaries and inspirational memes, is quickly becoming one of the top destinations for pornographic photo shoots, explicit GIFs and filthy accounts of NSFW encounters. As of 2013, roughly 11.4% of Tumblr's top 200,000 visited blogs contained adult content, according to TechCrunch. 
People are not only becoming more vocal about their porn interest on social media, but the porn that's being created and shared is much softer, more erotic and, yes, more romantic than your typical porn fare. The biggest fans of this Tumblr porn? Typical 20-something couples, who are ready to put their personal lives on display.
A new way to explore: What do people really want from their porn? Judging by the numbers, conventional search terms like "MILF," "gangbang" and "creampie" rank among the most searched for terms on Pornhub by millennials, according to an analysis conducted by Mic and Pornhub in July. 
But that might not be what all 20-somethings actually want in the bedroom — or from their porn, for that matter. A 2014 study in the Journal of Sexual Medicine, for instance, found that the most popular sexual fantasies of both men and women focused on feeling a strong romantic attachment during sex and oral sex with a partner, according to Business Insider. That may be why couples are sharing their most intimate moments with the Internet, especially on Tumblr, where "TMI" is de rigueur. 
While revenge porn and invasive nude photo leaks threaten the privacy of many couples, on Tumblr, personal shots are voluntarily submitted. People who create Tumblr porn often crop out their own faces and adopt cute monikers to ensure their identities remain safely hidden, but the fact that they look like the average couple next door is a huge part of the turn-on. 
"Couples will come and have sex on camera and it is always interesting and hot to see how other couples are doing it," Sid*, 26, who runs a sexy Tumblr with his long-term girlfriend, told Mic. Sid and his girlfriend, like many Tumblr users, are both creators and consumers of porn blogs. "It gave us a lot of new ideas about what to try."
The welcome wagon of porn: Unlike other porn sites, which typically organize videos according to genre, Tumblr offers a rapidly changing buffet of sexy content. The GIFs and photos are catalogued by tagged sexual predilections, featuring different body types, backgrounds, ages, interests and orientations. You're just as likely to find a GIF of analingus as a shot of a nude couple cuddling. And while tube sites typically segregate gay porn and straight porn, Tumblr makes no such distinction.
"You can find the full range of ... kinks on Tumblr, in very tasteful ways," Alex*, 28, a Tumblr porn fan, told Mic. "It is absolutely where most learn about it in the best, most educated way, as well as develop and explore their taste."
"It crosses over gender and sexuality lines," Elle Chase, a sex educator who runs the popular Tumblr porn site Lady Cheeky, added. "I don't have to be a gay man to find a GIF of two men making love incredibly erotic." That might be why Tumblr porn is now being heralded as empowering and feminist; it often has something for everyone.
A whole new couples' toy: For many brave couples intrigued by the reblogs of cunnilingus, anal sex and spanking GIFs, many have taken content creation into their own hands.
"Someone on Reddit suggested it," C. and J., a couple that operates the Tumblr Seattle255 for about 35,000 followers, told Mic. "Of the free-range porn communities [like Tumblr and Reddit] ... one big Tumblr advantage is the lack of jerky moderators." 
That means C. and J. have free rein to post whatever they want, from NSFW videos to book reviews with accompanying nude pics. C. and J. think that we live in a sexually repressed era, and their special hybrid of literary, instructional and completely smutty posts is what sets them apart from a typical tube site. "We're being the change we want to see in the world," C. and J. said of their Tumblr porn, referring to the ubiquitous bumper sticker quote.
There's some science to back the seductive appeal of couples' Tumblr porn. Research suggests that couples who are honest about their porn habits and even watch porn together are less stressed and report having greater relationship satisfaction. When couples start sharing their own sex lives with readers, their blog becomes something of a sex toy itself. 
Other couples use their Tumblr to jump-start their offline romps. Sid and his girlfriend went to separate colleges, so their own Tumblr "helped strengthen our relationship," Sid said. "Having the blog and sharing pictures and thoughts was a way for us to be closer together."
A place where porn gets real: Even those who are fans of smut can become disillusioned with how mainstream porn tends to be more about sexualization rather than sexuality or intimacy. In that way, Tumblr porn can serve as an antidote, featuring real couples having real sex — and yes, even real orgasms. 
"Professional porn is totally bogus and bears the same relationship to actual sex that McDonald's does to actual food," C. and J. told Mic. "[What's attractive about Tumblr] is probably less about Tumblr per se and more about seeing what real people do."
This type of organic, homespun smut is attracting a huge audience, and it doesn't just consist of horny dudes who typically watch porn on tube sites. Lady Cheeky, for instance, has about 125,000 mostly 20-something followers, about 40% of which are female — a stat unheard of in the mainstream porn world, whose audience is approximately 76% male, according to a recent Pornhub report. 
"To me, this all means that in a busy world of instant gratification and immediacy of content, that what people inherently respond to is intimacy, desire and authenticity," Chase told Mic.
A judgment-free, sex-positive zone: But perhaps the primary reason why Tumblr porn is so popular stems from the fact that it's one of the few social media spaces that actually hosts user-submitted adult content. Unlike Facebook or Instagram, which explicitly ban nudity and adult content, Tumblr is one of the few remaining venues where we can still see what "real people" do behind closed doors, via free GIFs and pics. 
Reblogs, notes and "ask me anything" sections offer a supportive, even communal, atmosphere. "Generally speaking, you're seeing real people sharing themselves, which is beautiful, and real people sharing their tastes openly," Alex said.
It's unclear, however, whether Tumblr will remain open to its own sex-positive community. Although the site still allows porn, it banned porn tags back in 2013, prompting a massive outcry. Now, with talk of porn crackdowns on other social sites like Twitter, it seems more important than ever to preserve the sex-positive utopia of smutty GIFs and naughty pics. 
Despite the threat of censorship, there will always be an audience for user-submitted naughty content. "I thoroughly enjoy watching people uninhibited and anonymously act out their fantasies, tastes and the uniquely interactive experience of sharing positive feedback," Alex said. "Watching people's sexuality blossom online with strangers is a beautiful untold story."
That, above all, might be the biggest draw of Tumblr porn. Because unlike any other kind of porn, on social media, you can decide what's sexy.
*Some names have been changed to allow subjects to speak freely on private matters.