Sandra Blands Death Ruled Suicide But Here's What Her Family Thinks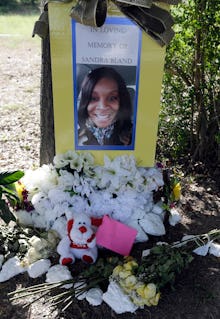 On Thursday, the Waller County district attorney released the autopsy report of Sandra Bland, the 28-year-old who died in police custody 72 hours after her July 10 arrest, confirming her death was caused by suicide. 
At a press conference, Waller County prosecutor Warren Diepraam confirmed the autopsy results revealed Bland's death was consistent with a suicide because there was no indication of a struggle. A bruise on Bland's neck, however, was consistent with suicide.
However, the death of Sandra Bland has been mired in speculation and controversy from the beginning, and Bland's family has maintained she would not have killed herself. They are pressing authorities to dig deeper. 
"If it was happening, I would have known," Bland's sister Sharon Cooper said, when asked whether Bland could have been depressed without the family knowing it, according to the Associated Press. Many of Bland's family and friends have suspected foul play, as some of the details of the authorities' account of her death seemed inconsistent with Bland's character, according to those who were closer to Bland. 
Police said Bland, who was pulled over for a routine traffic violation in Waller County, Texas, on July 10, arrested and whose body was discovered on the morning of July 13, had hanged herself in her jail cell with a noose fashioned from a plastic trash bag. 
Searching for answers. The family has ordered an independent autopsy on Bland's body, the preliminary results of which showed deep tissue bruising on her back that were consistent with the arresting officer having pressed his knee there, the Associated Press reported. Relatives of Bland said her spirit had "demand[ed] we get to the truth" of her death. 
Bland's body was flown back to her home state of Illinois, where she will be buried, however family members said having her body has offered them little peace of mind. 
"I'm frustrated," Cooper told ABC 7. "I will be honest with you, we thought that in bringing Sandy home from Texas, that that would begin to give us a little closure, in terms of getting closer to her homegoing services, getting ready to put her to rest peacefully." Bland's funeral is expected to be held Saturday in the Chicago suburb of Lisle. 
Bland's family has questioned authorities' account of her death from the start. While she had a history of depression, people close to Bland said she was in good spirits before her arrest and that she was excited to be interviewing for a new job in Texas. 
"Why is it that a 28-year-old woman who had received two job offers take her own life? Why would she call her mom in excitement about those jobs and take her own life?" the family's attorney, Cannon Lambert, said during a press conference this week. 
Some celebrities have taken to social media to join the cry for further investigation into Bland's death, including Kim Kardashian and Nicki Minaj.
Many questions remain. Bland's state of mind when she was jailed has been at the center of the investigation into her mysterious death. Police were quick to label Bland's death a suicide, despite her marking "no" to the question, "Are you thinking about killing yourself today?" on a medical form she filled when she was booked on July 10, documents released by the Waller County district attorney on Wednesday have revealed. 
Some have questioned whether race played a role in Bland's death. The county in which Bland was arrested has a history of racism, according to ABC 7, although local officials have disputed that claim. 
Bland, who was black, was known in some circles as a social activist, having spoken out against police brutality against minorities, specifically black women. Bland frequently discussed issues of race and racism in videos posted to Facebook earlier this year.