Amy Schumer Tweets Thoughts and Sympathies for Lafayette Shooting Victims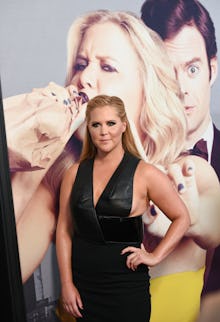 Amy Schumer took to Twitter late Thursday night to send a message to Lafayette, Louisiana, where 59-year-old white man John Russell Houser fired rounds from his handgun into the audience at the 7 p.m. screening of her movie Trainwreck.
The film was playing for 20 minutes when Houser stood up and opened fire on the audience, killing two people and himself. Nine others were sent to the hospital. 
Mic previously reported the two victims of the attack were identified as 21-year-old Mayci Breaux and 33-year-old Jillian Johnson.
Trainwreck is Schumer's first leading role in a film. She also wrote the script; Judd Apatow directed.
In a public statement Thursday night, Louisiana State Police spokesman Sgt. Brian David said, "There's nothing to believe that there was any kind of motive."
Jalen Fernell was watching a movie in the theater next door when Houser began shooting the audience. He tells CNN, "I almost thought it was part of the movie at first, immediately we get terrified because they are telling us to head out to vehicles. It was kinda like a war going on ... gunshots after gunshots."
Paige Bearb, a witness to the attack, told CNN: "I saw people bleeding from the leg, they were shot, and I was like 'Wow.' It was like a movie itself."