This Badass Jacket Just Earned Almost $2 Million on Kickstarter — Here's Why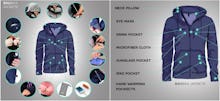 A utility jacket by BauBax still has over a month to finish raising funds on Kickstarter, but it's already surpassed its goal of $20,000 — by approximately $1.9 million. 
The "World's Best Travel Jacket with 15 Features," as it's being billed on Kickstarter, has garnered almost $2 million in pledges, reportedly making it the most funded clothing project in Kickstarter history, according to a press release on PR Web. 
Why all the enthusiasm? The item is basically the "Swiss Army Knife of Travel Jackets," as CNN Money billed it. It's got a built-in neck pillow, phone pocket, earphone holders and an eye mask. Heck, it even comes with a pocket designed to hold an iPad. 
Oh, and in case you were wondering, it comes in four different styles for men and women, too: You can get it as a sweatshirt, windbreaker, bomber jacket or blazer.
The Travel Jacket hit its initial goal of $20,000 on July 7, just five hours after the campaign launched, Hiral Sanghavi, the CEO and founder of BauBax told Mic via email. The million-dollar funding mark came two weeks later.
Fervor for the jacket, simple as it sounds, is likely due to the fact that it addresses one of the most annoying everyday realities: having to juggle tons of crap while traveling. Sanghavi's weekly commutes from Chicago to San Francisco inspired him to conceptualize the perfect solution, he said. The flights were often eight hours or longer with layovers, he said. 
"From this experience, we set out to solve all of the problems travelers encounter by designing travel jackets, blazers, bombers and hoodies/sweatshirts with everything a traveler wants and needs," Sanghavi said.
It also shouldn't be so surprising that the video and images focus mainly on men, given their love for utility clothing. The brand SCOTTeVEST has been making similar, albeit much less hyped, travel clothes for over a decade. And the jacket would pair nicely with cargo shorts, the convenient style beloved by functional guys but reviled by many a fashion editor. (Somewhere in the middle are those who support shorts with cargo pockets, but look down on the actual storage of items in said pockets.)
By the looks of the funding and sold-out reward packages for funders, the BauBax Travel Jacket has plenty of fans jonesing for functional fashion. The company won't start manufacturing the jackets until October, with a final release date in November, according to its Kickstarter page. 
That leaves plenty of time for more eager beavers to pre-order — and have the jacket breaking more Kickstarter records. Dudes love their pockets.