Meet the Two Women Being Hailed as Heroes of the Lafayette Theater Shooting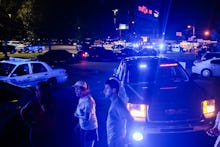 As the dust settles following the Thursday night shooting that left three people dead and nine injured in a Lafayette, Louisiana, movie theatre, two teachers, Ali Viator Martin and Jena Legnon Meaux, are being hailed as heroes for their lifesaving actions during the affair. 
One of the women, allegedly Meaux, threw herself on another friend to shield her from the spray of bullets fired at the 100 people in the theatre, while the other, supposedly Martin, pulled the fire alarm during the incident, alerting authorities. Both women were shot in their legs and were hospitalized, but are in stable condition. 
"My understanding is that Ali was the one who was able to pull the fire alarm," Dale Henderson, superintendent of the school system in which both women work, said, according to the local Advocate. Martin currently teaches English at Jeanerette Senior High after seven years in the local school system, and Meaux has been a librarian and teacher locally for the past 21 years. 
"Emotionally, it will take them awhile to recover from this," Henderson added. "This is extremely tragic. Something so wonderful and innocent, to just be watching a movie and then to have something like this happen, it's so unfortunate."
Louisiana Governor Bobby Jindal said the women displayed "heroism."
"Out of tonight's tragedy, you are beginning to hear stories of heroism and self-sacrifice. Couple of teachers at a movie together, one of the teachers literally jumped on top of the other — may have saved her life," Jindal told a group of reporters, according to CNN.
"Literally took a bullet that could have hit the second teacher in the head. The second teacher was injured, was shot but not life-threatening," Jindal said. "Despite being injured, the second teacher was able to pull the fire alarm and help to save other lives."
The Iberia Association of Educators, of which Martin and Meaux are both members,  set up a GoFundMe page on Thursday night in order to help the pair with their medical bills. At the time of publication, they had raised $11,310 of $40,000.
"I am a former [colleague] and friend of Jena and Ali. This account is set up to help them defray costs of any medical expenses the insurance will not cover and also any time they may lose as our school year is approaching," the GoFundMe page reads.
Those who know the teachers have expressed no surprise at their self-sacrifice, suggesting their respective responses are completely in keeping with the type of people they are.