Jon Stewart Told Wyatt Cenac to "Fuck Off" When He Called Herman Cain Impression Offensive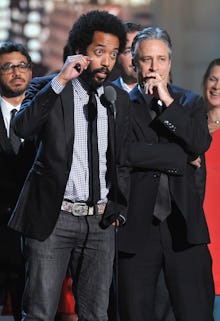 Wyatt Cenac, a former writer and correspondent on the Daily Show, reflected on his five-year tenure on the show in an interview Thursday on WTF with Marc Maron, in which he recalled an argument that ended with host Jon Stewart repeatedly shouting "Fuck off, I'm done with you," to Cenac.
In the interview, Cenac described how he was sitting in a hotel when he watched Stewart do an impression of Republican presidential hopeful Herman Cain in the lead-up to the 2012 election. 
The impression, which mocked the then-Republican presidential candidate from Georgia for proposing an idea that all legislation made in America would only comprise three pages if he were to take office, made the writer uncomfortable, who decided to voice his concerns to Stewart.
The writer told Maron he emailed his thoughts regarding the mocking impersonation upon seeing the segment, and then brought it up at a writers' meeting in the office soon after. Maron asks Cenac, "And you got along with Jon?" which is when Cenac took the bait: "Nah," he replied. Cenac described:
"I remember he was like, 'What are you trying to say? There's a tone in your voice, I was like, 'There's no tone, it bothered me.' And I was like, 'It sounded like Kingfish.' Then he got upset, and he stood up, and he was just like, 'Fuck off, I'm done with you.'"
Cenac says Stewart continued to repeat that he was done with the writer several times before leaving the room (which was filled with Cenac's peers at the time), and he was unsure if he had just been fired.
When the two later discussed the incident in Stewart's office, Cenac told Maron the Daily Show host apologized for screaming at him, but it didn't seem genuine to Cenac. He told Maron, "He was like, 'Yeah, we're cool. I don't see your side of it, but I shouldn't have yelled at you.'"
The revelations behind Cenac's 2012 departure from the Daily Show come at a time when Stewart is finishing his last few episodes as the show's host, with Trevor Noah set to take over the program Sept. 28.