Obama Touches Down in Kenya: Here's What the President Has Planned for His Trip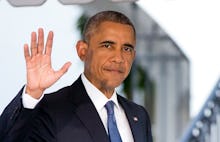 President Barack Obama is spending two days in his father's homeland and the country he visited nearly 30 years ago, but Kenya has been preparing for his arrival for months. 
The president will be traveling through Kenya, as well as making a short stop in Ethiopia, with two dozen United States lawmakers and 200 U.S investors, who are currently in Africa to attend the Global Entrepreneur Summit.
WAFF reports Obama has quite a bit planned while visiting Africa, including the opportunity to see some of his family at various public appearances, including his 93-year-old step-grandmother. 
CNN reports Kenya's capital city, Nairobi, received a makeover in anticipation of the president's arrival by filling potholes, placing additional security cameras on city streets and even planting new grass to line the president's motorcade route from the airport. 
Obama will be addressing the United States' economic relationship with Kenya, specifically regarding trade development, and will also speak on counterterrorism efforts and security, according to WAFF.
Robinson Njeru Githae, the Republic of Kenya's ambassador to the United States, discussed his hopes for the president's trip in Roll Call. The ambassador called on the president to push for nonstop flights to the African country from the United States and increase trade between both nations. Githae also discussed Obama's planned focus for the trip on discussing good governance with Kenya's leaders:
"Even more importantly than our common interests, Kenya and the U.S. share common values, especially a commitment to democracy and the rule of law. [...] Through the decentralization of decision-making and a sweeping anti-corruption campaign, the government is striving to earn the confidence of every citizen ... Ultimately, good governance is the best antidote to extremism, the most effective encouragement of economic growth, and the strongest sign that Kenya and the U.S. are natural allies."
Obama will attend the Global Entrepreneurship Summit on Saturday, where he will deliver a speech focusing on sustainable energy and economic development in Africa. On Sunday, he will speak in a roundtable panel on human rights in Ethiopia, then address the African Union in Addis Ababa, Ethiopia, on Tuesday, according to USA Today.
This will mark Obama's first trip as president to his father's homeland, as well as the first time a sitting president of the United States has visited both of these African countries, which have had recently violent histories. 
USA Today reports Kenya's Interior Minister Joseph Ole Nkaissery said at a press conference Thursday, "The fact that the president of the most powerful nation is coming to Kenya is a show of victory against terror, the terror attacks will be a thing of the past."