This TV Reporter Got Fired for Smoking Pot. Now She's a Marijuana Activist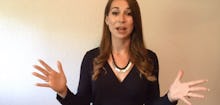 On July 1, it became legal for adults to grow, smoke and share marijuana for recreational purposes in the state of Oregon. Later this year, licensed sellers are expected to be given the opportunity to bring retail weed to the market. 
Despite the changes, the new law does not protect marijuana users from drug-testing by their employers. 
So begins the story of now-former KEZI morning weekend anchor Cyd Maurer. The 25-year-old University of Oregon graduate was fired from her job with Eugene's ABC affiliate after she tested positive for marijuana use. In a video posted to her new website, AskMeAboutMarijuana.com, Maurer explains how it went down.
It began, she explains, "like any other workday, I showed up completely sober. I was stressed, on my way to my live shot in rush-hour traffic, behind the wheel of a work car, and I accidentally tapped the bumper of a car in front of me. I was immediately forced to take a drug test, to pee into a cup, and that was that."
Maurer told the Oregonian she had gotten high within a week of the incident, but was sober while driving. Regardless, company policy mandated that she be dismissed from her job. KEZI's general manager fired her five days after the May 22 accident, according to Maurer.
"The decision to fire me didn't come from my immediate supervisors who worked with me everyday, who actually told me they wanted me to keep my job," she claims. "No. The decision to fire me came from a corporate attorney who had never even met me."
Now Maurer is using her experience, and free time, to help "break down the negative social stigmas, the laws and the misguided policies that are forcing people to choose alcohol over marijuana." 
In her video, Maurer argues there is an unfair distinction between alcohol and marijuana, which she says — and science confirms — is considerably less dangerous than beer, wine and liquor. 
On this point, Maurer has the backing of at least one prominent Oregonian. Rep. Earl Blumenauer, an Oregon Democrat, has co-sponsored a number of bills to remove the drug from its current Schedule I designation under the federal Controlled Substances Act, and loosen restrictions that would allow equal access for war veterans seeking medicinal marijuana.
Blumenauer also knows the exact number of people who have died from a weed overdose. 
("Spolier alert: It's zero!")
Alcohol, however, takes a much heftier toll. In May 2014, the World Health Organization published a study finding that 3.3 million people had died "due to harmful use of alcohol" in 2012 alone. 
"That's why I'm sharing my story," Maurer says on her website. "I want to start a conversation! Ask me ANYTHING! If you don't agree with me, please, let me know! I want people to be no longer misinformed."
You can watch Maurer's full video here:
h/t Romenesko