Florida Poll Shows Jeb Bush With a Strong Lead Over Other GOP Candidates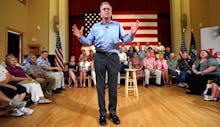 A new poll out of Florida shows former Gov. Jeb Bush firmly leading the GOP pack among Republicans, beating out Florida Sen. Marco Rubio as well as the party's national and controversial front-runner, real estate tycoon Donald Trump, according to Politico. 
Twenty-eight percent of Sunshine State Republican voters said they favored Bush over other GOP contenders, according to the Mason-Dixon survey released Friday. Rubio came in second with 16% supporting. Three months ago, the two candidates were neck-and-neck among Florida voters. 
Bush, a longtime leading contender for the GOP nomination, has maintained a strong hold in national polling, with an exceptionally large lead in his native Florida. The Bush campaign and Bush's allied super PAC have raised an impressive $114 million, placing him far ahead of the competition in the GOP money race. Though some of the recent media attention has shifted to the seemingly endless sound bite machine that is Trump, Bush has maintained a strong presence.
Most notable in the Mason-Dixon poll was Trump's dwindling popularity in Florida. The billionaire reality star, whose recent inflammatory remarks about immigrants and Arizona Sen. John McCain have sparked widespread criticism but have seemingly not affected his standing with voters as a whole, came in fourth behind Bush, Rubio and Wisconsin Gov. Scott Walker. 
"This is the first Florida poll taken entirely since Trump's remarks regarding John McCain's Vietnam War service," Mason Dixon pollster Brad Coker said in a statement, according to Politico. "His 11% showing in Florida is far below his support in recent national polls. This could be the result of the home state advantage of both Bush and Rubio." 
Trump was not included in the firm's April poll, "however, the fact that Walker has slipped ahead of [Trump] may be a stronger sign that his candidacy is fading," Coker said. 
Nationally, Trump was still polling strong this week. He was top among Republican primary voters in the latest survey by Public Policy Polling, followed by Walker and Bush. Voters who described themselves as "very conservative" were among Trump's most loyal followers. 
"Donald Trump continues to lead the Republican primary field," Dean Debnam, president of Public Policy Polling, said in a statement. "But there are signs his decline may be starting with GOP voters — and when it comes to the general election his numbers are an unmitigated disaster."
Clinton has remained the clear favorite among Democrats, leading with 57% support from Democratic voters, followed by Sen. Bernie Sanders of Vermont at 22%.