18 Photos of Obama's Historic Trip to Kenya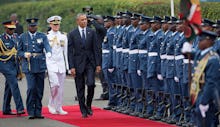 This weekend, President Obama returned to his father's homeland of Kenya for a multi-day trip packed with speeches, public appearances and diplomatic meetings. Accompanied by two dozen legislators and 200 American investors attending the Global Entrepreneurship Summit, Obama's visit to Kenya is a historic first for his presidency and a continuation of his relationship with the country that began with his first trip there some 30 years ago.
Here's what the president has been up to during his visit, which will continue into the next week in other African nations such as Ethiopia.
1. Crowds of cheering Kenyans greeted the president at the airport during his arrival.
2. The president met with his Kenyan counterpart, President Uhuru Kenyatta, for a bilateral meeting at the State House, his residence.
3. He also laid a wreath at a memorial to 1998 embassy bombings in two East African cities (including Nairobi, Kenya) that killed hundreds of people.
4. The president also gave a speech at the 2015 Global Entrepreneurship Summit at the United Nations Compound in Nairobi.
5. Obama toured a festival finding ways to power Africa's growing cities and economies.
6. Some Kenyans presented homemade gifts and displays of goodwill for the president during his trip.
7. POTUS also made time to visit his extended family, many of whom haven't seen him in a long time.