Obama Just Took a Bold Stand for Gay Rights in Kenya — And It Didn't Go Over Well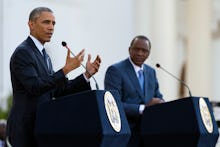 President Obama took some time out from his historic, multi-day trip to his father's homeland of Kenya to criticize that government's record on gay rights.
On Saturday, while conducting a press conference with Kenyan President Uhuru Kenyatta, Obama referred to his own background as an African-American and stated he was "painfully aware of the history when people are treated differently under the law," the Associated Press reports.
"That's the path whereby freedoms begin to erode and bad things happen," Obama added. "When a government gets in the habit of treating people differently, those habits can spread."
"With respect to the rights of gays and lesbians, I've been consistent all across Africa on this," Obama told the crowd, according to the Washington Blade. "I believe in the principle of treating people equally under the law. And they are deserving of equal treatment under the law and the state should not discriminate based on their sexual orientation."
However, the president seems to have received a chilly reception from Kenyan officials on the topic of gay rights. Many Kenyans have protested Obama's pro-LGBT stance by warning him to steer clear of the issue during his visit. Pew Polling indicates that the vast majority of Kenyans believe homosexuality is immoral and leaders have criticized Obama for his advocacy. Homosexuality remains a crime in Kenya that can land men up to 14 years in prison.
For his part, Kenyatta insisted that LGBT rights were not on the "foremost mind of most Kenyans." As noted by Reuters correspondent Jeff Mason on Twitter, the delegation that met Obama included Deputy President William Ruto, who has been indicted by the International Criminal Court for crimes against humanity.
According to CNN, the president said he hopes to return to Kenya as a private citizen when he will "have more freedom to reconnect" with the country.