These 3 Charts Show Bernie Sanders' Favorability Surge — Less So for Clinton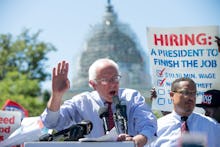 Sen. Bernie Sanders' momentum has continued to push him up in the polls just as former Secretary of State Hillary Clinton's appears to be stalling out.
New Gallup poll numbers released this week show that the senator from Vermont's favorable rating in the U.S. "has doubled since Gallup's initial reading in March, rising to 24% from 12% as he has become better known." Meanwhile, Clinton's numbers have declined significantly since peaking at 66% just a few short years ago.
Sanders' rising familiarity is responsible for much of the increase, with about 44% of Americans knowing enough about him to declare a preference one way or the other, up from just 24% in March. But as Clinton has slid back into electoral politics, so too has she inevitably decreased in popularity, with her unfavorable rating (46%) outstripping her favorable rating (43%) for the first time since 2007:
Gallup's numbers additionally show that while Clinton remains a clear frontrunner among Democrats in the general population, a large segment of the U.S. population has unfavorable attitudes toward her, and only a few haven't made up their minds.
Among Democrats, Bernie emerges as much more of a clear second-place contender, though Clinton is still clearly far in the lead at 74% to his 39%. According to Gallup, while Sanders trails Clinton in all demographics, he "comes the closest to her among whites, men, young adults and liberals" — perhaps marking the blind spot on women and minorities recently highlighted by his less-than-stellar run-in with #BlackLivesMatter activists last week.
As is clear from the poll above, former Virginia Sen. Jim Webb, former Maryland Gov. Martin O'Malley and former Rhode Island Gov. Lincoln Chafee have all fallen into a distant third place, with 75% or more Americans claiming they had no opinion or had never heard of them.
Clinton was inevitably bound to decline in favorable ratings among Americans as she re-entered electoral politics following her term as secretary of state, so the most recent poll findings probably don't reflect any specific liability such as the ongoing argument over her private email account. But Gallup's Lydia Saad writes that the poll indicates Clinton "remains the only Democratic candidate for president with a national name, and Clinton continues to stand head and shoulders above her next closest competitor — Sanders — in popularity for the presidential nomination."
Still, recent polling by Qunnipiac University illustrates that Clinton is facing some major image problems in the three swing states of Colorado, Iowa and Virginia, all of which currently have her losing against top Republican competitors.
For some Democrats, this uneasiness may make Sanders look like an attractive alternative to Clinton. But these people may get buyers' remorse if Sanders fails to build sufficient momentum among Democrats or make massive inroads to the general public, in which over half of Americans know so little about Sanders they declined to offer an opinion.
H/t Gallup