Something Embarrassing Happened When Donald Trump Made 'Veterans For Trump'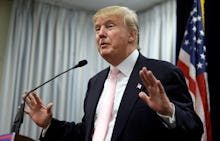 When billionaire Republican presidential candidate Donald Trump used July's Family Leadership Summit in Ames, Iowa to attack former prisoner of war Sen. John McCain's (R-Ariz.) service record by belittling the fact that he was shot down and captured in Vietnam, he might have anticipated that his words might anger pro-military Republicans.
Trump fired back by claiming he also had the support of former service members as well, announcing the creation of new group called Veterans For Trump. But while the people listed on the campaign's web site do appear to be veterans, three separate veterans contacted by The Guardian claim that they are not "for Trump."
Whoops.
"I don't know anything about it," 88-year-old World War II veteran Ernie Fusi told the paper. "I haven't told anyone I want to get in on that. I'm not going to do any campaigning ... I don't like it, 'cause I haven't given anyone permission to send my name around."
Another veteran from Laconia, New Hampshire, Donnie Richards, added "I'm not doing that. I'm just a regular citizen who hasn't made up his mind yet who I'm voting for."
Of the 51 veterans on the list, The Guardian reached a total of three who appeared to have no idea why their names were included. The Trump campaign told the paper it had "written confirmation of support from each of the individuals listed as part of the New Hampshire Veterans Coalition."
Astroturfing, the practice of faking genuine grassroots support for a candidate or issue, is far from new in American politics. But Trump has deployed the tactic rather conspicuously.
The Hollywood Reporter wrote in June that a New York firm named Extra Mile Casting linked to the official Trump campaign likely paid actors $50 to attend his opening presidential announcement at the lavishly decorated Trump Tower. Activist  Angelo Carusone pointed to a CPAC 2013 speech Trump gave to a nearly-empty room as evidence that his campaign audiences are inflated.
Don't expect the exposé to phase Trump much - he's already gone well into offense mode on the veterans controversy, attacking McCain's record on the issue as weak and insisting that he has letters from real service members showing their support.
h/t The Guardian