Snoop Dogg Posts Defiant Instagram Videos While Under Arrest in Sweden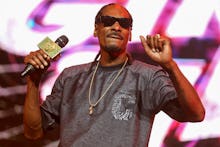 U.S. rapper Snoop Dogg has posted a series of Instagram videos documenting his brief detention by Swedish authorities after officers arrested him on suspicion that he was under the influence of illegal drugs.
Agence France-Presse reports that central Uppsala region police spokesman Daniel Nilsson told the paper "Police carrying out roadside controls noticed that Snoop Dogg (whose car was pulled over) seemed to be under the influence of narcotics." The hip-hop artist was taken to a police station to pass a urinalysis test to establish whether he was sober.
In a video taken from the back of a police car, Snoop was defiant:
"In the police station, doing a report on me, cuz," Snoop says in a second video posted from inside a police precinct. "Profiling, racial profiling, came and snatched me out of my car."
"Sorry about that, peoples, I'll never be back to y'all countries. Been real," he concluded.
In a followup video, the rapper claimed that law enforcement had subjected him to a drug test and paraphrased a Louis Farrakhan quote, saying that "it's better to be searched and not found with nothing than not to be searched at all. Fuck y'all."
According to AFP, while Snoop's urinalysis results were not immediately released, he was released from police custody shortly after taking the drug test.