Kanye West Said a Pretty Brilliant Thing On Caitlyn Jenner's 'I Am Cait'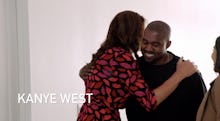 I Am Cait premiered Sunday on E! with some powerful appearances from familiar faces, including the family of Kyler Prescott, a transgender teenager in San Diego who took his own life in May, Kylie Jenner and even Kanye West, who has repeatedly refused to appear on the other Kardashian/Jenner reality shows on E! 
Standing in Jenner's kitchen, West was all smiles when he said to Jenner, "I think this is one of the strongest things that have happened in our existence as human beings, that are so controlled by perception. You couldn't have been up against more."
West arrived at Jenner's Malibu home with wife Kim Kardashian West on the first episode of the 8-part series, where they were first introduced to a post-transition Caitlyn Jenner. 
Jenner's transition has been the object of public scrutiny for months since coming out publicly to Diane Sawyer in April, and then appearing as Caitlyn for the first time on the July cover of Vanity Fair. West reflected on Jenner's new celebrity status, and praised her for using her fame to raise awareness around the myriad problems transgender people face.
What could have been just another Kanye West rant turned out to be a reflective, valid point on Jenner's transition, and the weight of publicly coming out and embracing her female identity.
You can watch the full clip of Kanye and Caitlyn below: