Bobbi Kristina Brown, Daughter of Late Whitney Houston, Dies at 22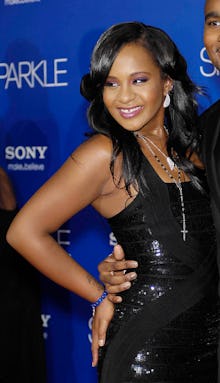 Bobbi Kristina Brown, 22, passed away Sunday night after five months of remaining unresponsive while on life support, Brown's family told Entertainment Tonight.
Brown was the daughter of late singer Whitney Houston and her ex-husband, Bobby Brown.
"She is finally at peace in the arms of God, we want to again thank everyone for their tremendous amount of love and support during these last few months," the Houston family told Entertainment Tonight in a statement.
Brown's death comes six months after a tragedy eerily similar to her mother's death, when on January 31 the then-21-year-old was found unconscious in her bathtub and suffered from a brain injury that caused her to lose consciousness up until her death. 
Brown was first put on a ventilator, then taken to a long-term treatment center in Atlanta, and finally brought to a hospice center where she passed away Sunday, surrounded by family.
Brown struggled with her mother's passing in the public eye. 
"I can hear her voice in spirit talking to me, 'Keep talking to me. I got you,'" she told Oprah Winfrey in 2012, according to People. "She's always with me. I can always feel her. I can always feel her with me. She always asked me, 'Do you need me?' And I caught myself, out of nowhere, I didn't even know I said it, I said, 'I'll always need you.'" 
Houston was found dead in a bathtub on February 11, 2012, at the Beverly Hills Hotel the night before a scheduled performance at the Grammy Awards. 
Twitter showed an outpouring of support for Houston's family and Bobbi Kristina following reports of her hospitalization in January, and even more on Sunday night. According to Twitter, as of Sunday night, there were about 45,000 trending #BobbiKristina tweets.
Bobbi Kristina is survived by her husband Nick Gordon, her father, Bobby Brown's two children from an earlier relationship, her grandmother Cissy, and her aunt and uncle Pat and Gary Houston.