This Jaw-Dropping 'New York' Cover Says It All About the Bill Cosby Rape Allegations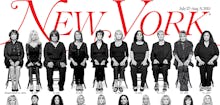 On the latest issue's cover, New York Magazine has published a photo of 35 women who have come forward and accused comedian Bill Cosby of sexually assaulting each of them. 
The accompanying story contains more photos of each of the women, documenting the year of their alleged assaults and sharing some first-hand accounts of the incidents and their aftermath.
"He said, 'Let's try a cold read,' so he pulls out a script," Heidi Thomas, 55, allegedly assaulted in 1984, describes in the article. "The scene was set in a bar; the character was someone who was inebriated. He poured a glass of white wine. And he said, use this as a prop—now, that means you're going to have to sip on it, of course. I really don't remember much, except waking up in his bedroom. He was naked, and he was forcing himself into my mouth."
"I felt like a prisoner; I felt I was kidnapped and hiding in plain sight," Barbara Bowman, 48, allegedly assaulted multiple times between 1985 and 1987, told the magazine. Bowman also wrote an op-ed in the Washington Post in late 2014 about her assaults. "I could have walked down any street of Manhattan at any time and said, 'I'm being raped and drugged by Bill Cosby,' but who the hell would have believed me? Nobody, nobody."
In the article, New York says the project began roughly six months ago, when only 30 women had yet come forward with allegations of sexual assault against Cosby. That number grew in the meantime to 35, partially as they felt safer to go public with their stories.
"I'm no longer afraid," Chelan Lasha told New York. Lasha went public in late 2014 by saying Cosby had drugged her when she was 17. "I feel more powerful than him."
After an unearthed 2005 deposition revealed Cosby did obtain Quaaludes and used them on a number of women for the purpose of having sex with them, there has been renewed focus on Cosby's alleged history of sexual assault. 
Questions of the once-beloved comedian's past have even reached the White House. At a mid-July press conference, President Barack Obama responded to a question about the allegations saying, "If you give a woman — or a man for that matter — a drug and have sex with that person, that's rape. And I think this country, any civilized country, should have no tolerance for rape."
Since a multitude of women have come forward, accusing Cosby of various incidents of sexual assault spanning several decades, Cosby has maintained silence.