13 Photos of the Gay Beards Showcase the Most Delightfully Bizarre Instagram Trend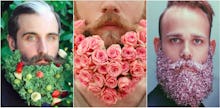 Researchers might have declared "peak beard" season back in April 2014. But all signs point to the fact that we're still obsessed beards, and not just with any kind — we're talking flowers-in-your-beard and holiday-baubles-in-your-beard styles.
The most delightfully twee facial hair trend (or bizarre, depending on who you ask) is being kept alive thanks to two 25-year-olds from Portland, Oregon (because of course, Portland being the unofficial capital of the hip bushy beard). Johnathan Dahl and Brian Delaurenti, the two guys behind the Gay Beards, have upped the ante with their creative designs — think food, flowers, flags and plenty of glitter. 
All those flower and glitter creations have made the Gay Beards' Instagram a must-follow. 
Dahl and Delaurenti have been friends since they were 8 years old, according to the Groomed Man, but were feeling especially "anxiously creative" back in July 2014. So they came up with the concept to photograph their beards, a project that evolved into the Gay Beards.
"Flower beards usually take the cake for being our favorite style of beard to put together, but even having to deal with the mess, glitter beards are always our favorite reason to have a good chuckle," the pair told Mic via email.
As it turned out, snapping their faces in all sorts of weird states opened up a fulfilling new realm of creativity for Dahl and Delaurenti.
"As weird as it may sound, growing a beard for the first time is like having an extension of you that you didn't originally know was there," the pair told the Groomed Man. "A beard takes a fair amount of time and patience to grow, but for us, it really added another level to our personalities."
As an extension of their personalities, the point is pure fun, from elaborate flower arrangements to colorful displays with birthday candles or pipe cleaners. Their Instagram bio sums up their attitude: "We tend to think the world needs more love and laughter."
That outlook — and the impressive pictures — have earned them thousands of fans on social media. Search #TheGayBeards and you're just as likely to find photos of other artists sketching and coloring illustrations inspired by the Gay Beards as the bearded men themselves.
The Gay Beards love their fans back. They regularly interact with them on social media and, whenever possible, in real life. "We really aim to encourage others to be comfortable with themselves and who they want to be," they said. "We feel the idea of living your life without regard for what others may think is a crucial foundation for being happy."
Take Instagram follower @fantasyofadreamer, who posted a photo of the Gay Beards with the caption "Go follow them because they are beautiful and brighten my day with their beautiful beards!" Her enthusiasm was met with a "We love you!!!" from the Gay Beards themselves.
With that level of excitement, it's not surprising the Gay Beards have more special projects in the works, including a children's book. Beard trends may come and go, but they're not too concerned. Their goal is to offer some fun and inspiration for their fans.
"We really aim to encourage those who might be feeling down, inspire individuals who don't give themselves enough credit, or lend a bit of laughter to someone who might be struggling with their own fears," they said.
That's what the Instagram is all about, as well as their YouTube channel, on which they share beard care routines plus little comedy bits, including trying to figure out what's in each other's mouth.
Quirky, after all, is the M.O. of a pair who've made their names sticking objects in their facial hair.
h/t The Independent 
July 27, 2015, 12:50 p.m.: This story has been updated to include comments from Johnathan Dahl and Brian Delaurenti.