Anonymous Launched a Campaign Against the Waller County Police for Sandra Bland's Death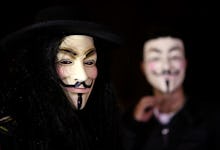 The digital hacker collective Anonymous believes that police murdered Sandra Bland — and it's calling for a national "day of rage" in protest against police brutality.
In a video uploaded to YouTube by an account named AnonIntelGroup, which already has more than 1 million views, persons claiming to be affiliated with the enclave pointed to discrepancies in the official police story on Bland's death. Bland, a 28-year-old black woman, died in a Waller County, Texas, jail cell on July 13 under disputed circumstances days after being arrested during a routine traffic stop.
While police claim Bland committed suicide and the county district attorney believes she consumed a large amount of marijuana shortly before, other agencies have stepped in to investigate amid widespread suspicion that law enforcement is covering something up.
The narrator in the video, a computer-generated voice, accuses Waller County law enforcement of a conspiracy to violate citizens' civil rights:
"These men have no honor and we cannot abide by their word or trust their so-called evidence," the narrator continues.
The video page links to documents it claims prove Bland was murdered, including booking documents, inconsistent police records and mugshots. It demands the "immediate arrest" of Brian Encinia, the state trooper who pulled over and arrested Bland in the first place.
"We ... are tired of the cycle of murders and coverups made by police departments across the nation," the account owner or owners writes. "We demand that each police chief at each protesting city to come out to the crowds and renew their pledge to protect the people they serve."
In previous incidents, Anonymous has taken police department websites offline or revealed the personal information of officers. In the wake of a massive police raid on file-storage website Megaupload, Anonymous launched successful distributed denial of service attacks against the Department of Justice, the FBI, the CIA and the Copyright Office.
While there remains no conclusive evidence Bland was deliberately murdered by the police, others like Rolling Stone's Matt Taibbi have questioned whether her arrest was justifiable in the first place and blamed the Waller County Jail for not ensuring her safety. The New York Times recently profiled Waller County's troubled past, which included racially tinged debates about "student voting rights, the neglect of black cemeteries, a white mayor's refusal to attend a parade marking the liberation of slaves at the end of the Civil War and the firing of a police chief, later twice elected sheriff, after complaints about police misconduct against black residents."
Watch the video below: