Watch White Cleveland Law Enforcement Pepper Spray a Crowd of #BlackLivesMatter Protesters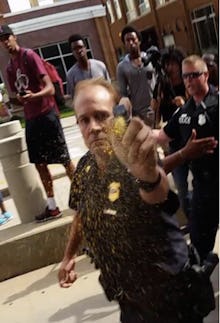 A video of a white Cleveland transit officer using pepper spray against protestors in the city went viral Sunday after rapper Talib Kweli Greene uploaded it to Twitter. In the post, Greene said the protestors had been peaceful. 
The footage, posted Sunday evening, has generated nearly 4,000 retweets. In the video, protestors can be heard howling profanities at the officer after he sprays several short bursts into the crowd. 
The protest was part of a demonstration by the National Convening of the Movement for Black Lives, which met  at Cleveland State University for a weekend conference on police brutality. Protests turned nasty, however, after the city's Regional Transit Authority reportedly detained a 14-year-old for not having a bus ticket.
In a statement, the RTA confirms detaining the teen but does not indicate he was under arrest. "Transit Police officers on routine patrol peacefully removed a intoxicated 14-year old male from a bus," the statement reads. "Police said the juvenile was intoxicated to the point where he was unable to care for himself." 
The officer in the video was identified by the RTA as Sgt. Robert Schwab, a 25-year veteran of the force, who has since been placed on desk duty while the case is investigated. The RTA said previous reports singling out another officer, Lt. Sean O'Neil, were false. 
The incident comes at a time of heightened tension between police and minority communities. From Freddie Gray to Walter Scott to Sandra Bland, the conference, originally meant to focus on police violence, had a long list of potential examples to analyze.
In Cleveland, there was Tamir Rice, the 12-year-old shot dead by police while he played with a toy gun. Though the person who called 911 said the weapon was "probably fake," the officers who responded were reportedly unaware of that fact and shot Rice shortly after arriving on the scene. In June, a Cleveland judge found probable cause to charge Officer Timothy Loehmann for his role, saying the officer should face murder charges. The final decision to charge Loehmann remains up to the city prosecutor.
According to KilledByPolice.net, at least 662 people have been killed by police in 2015 so far.
Watch the incident recorded in Cleveland this weekend below:
Correction: July 27, 2015