Planned Parenthood Hacked by Anti-Abortion Activists Who May Release Critical Info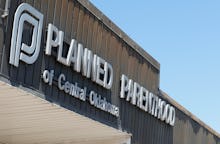 Planned Parenthood has spoken out about the alleged data breach that may have left the organization's internal emails vulnerable to hackers.
Anti-abortion activists have reportedly hacked the databases of Planned Parenthood, obtaining the names and emails of some of its employees, according to the Daily Dot. The group behind the hack said it planned to release the internal emails "soon."
Tom Subak, Planned Parenthood's chief information officer, said the group was investigation the reported hack. "We've seen the claims around attempts to access our systems," Subak said in a statement, according to Politico. "We take security very seriously and are investigating. Once we have investigated, we may make future statements."
The breach occurred late Sunday night, according to reports, and came amid recent controversy over the release of secretly recorded videos showing officials with the health care nonprofit discussing the alleged sale of aborted fetal tissue to medical research facilities. 
"Trying to mold an atrocious monstrosity into socially acceptable behaviors is repulsive," one of the hackers, known only as "E," told the Daily Dot. The anti-abortion hackers were part of a group called 3301. "Obviously what [Planned Parenthood] does is a very ominous practice. It'll be interesting to see what surfaces when [Planned Parenthood] is stripped naked and exposed to the public," "E" said. 
Anti-abortion activists were behind the recent release of footage allegedly filmed in 2014 and 2015 that depicted Planned Parenthood doctors talking about selling aborted fetuses. The videos have put Planned Parenthood on high alert, and they said the videos were edited to be deceptive. 
The controversy has become a talking point among some Republican 2016 presidential candidates. Sen. Rand Paul (R-Ky.) said he wants to pass a law barring the federal government from funding Planned Parenthood. "There's no reason for Planned Parenthood to get any federal money, and basically the things they are doing are unacceptable to a vast majority of people — pro-life or pro-choice," Paul said Sunday on CBS' Face the Nation. 
Planned Parenthood's president, Cecile Richards, criticized the "militant anti-abortion activists" on Sunday before the hack was reported, saying such activism does "nothing to improve the health and safety of women," according to CNN.
July 27, 2015 3:30 p.m. EDT: This story has been updated.