Lady Gaga Joined Bono and U2 for an Incredible Version of "Ordinary Love"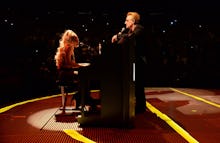 Lady Gaga has officially joined the star-studded list of performers who have rocked the stage with U2 during their eight nights of back-to-back performances at New York's Madison Square Garden. Gaga joined the band's lead singer Bono from behind her piano to sing "Ordinary Love," written in honor of the late Nelson Mandela for the 2013 film Mandela: Long Walk to Freedom.
As the band joins in with Bono and Gaga, the performance takes a turn from a harmonious duet to an exciting power ballad. Gaga picks the song back up for one last chorus with the crowd.
Entertainment Weekly reports U2 has taken up a residency at Madison Square Garden, performing each night in New York with an entire roster of celebrities, from Paul McCartney, Nile Rodgers and Alicia Keys to Jon Bon Jovi and even the Roots along with Jimmy Fallon.
The eight nights of performances are all part of U2's "Innocence + Experience 2015" tour, which comes following the release of the band's 13th studio album, Songs of Innocence. 
According to Madison Square Garden's website, the band wanted each performance to be unique. "We are going to try to have a completely different feeling from night one to night two, and have some fun playing with the idea of innocence and experience. More to be revealed!" Bono said, according to the website.