Police Shut Down a Rapper's Hologram Concert for Peace, Claiming It Posed a "Safety Risk"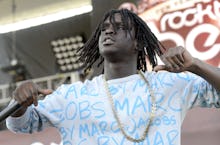 Chief Keef wants to stop the violence, but the police want to stop Chief Keef.
On Saturday, the rapper appeared at Craze Fest, a hip-hop festival in Hammond, Indiana, a village 25 miles outside Chicago, performing to raise money to help victims of Chicago gang violence. The rapper couldn't appear in person because of some outstanding arrest warrants and Mayor Rahm Emanuel's insistence that he's "an unacceptable role model." So instead, he arranged to appear as a hologram, working with Hologram USA.
"Stop the violence. Stop the killing. Stop the nonsense. Let the kids grow up," Keef's hologram called to the audience before launching into his set. 
That was as far as he got. Police caught wind of the performance, and just a few songs in, they cut the concert's power and ushered fans out. Hammond's mayor claimed the rapper's presence posed "a threat to public safety," reports the New York Times. The act left a huge crowd of disappointed fans, a charity without money in its coffers and some questions about free speech on the table.
The backstory. Chief Keef started planning this hologram performance earlier this month, after losing a friend in a drive-by shooting in Chicago that also took the life of a 13-month old child. The charity concert would raise money to support the child's family.
He tried to host a show at Chicago's Redmoon Theater on July 17, but Emanuel cancelled the performance, with city hall representatives claiming the rapper's music "promotes violence," and whose presence — even in hologram form — "posed a significant public safety risk," according to the New York Times.
Keef kept the location under wraps until the very last moment. "Banned by the mayor of Chicago: Chief Keef, from a secret Chicago location," a video boasts on Instagram, before later announcing Craze Fest as the intended spot.
It's true Chief Keef has a checkered past, especially in terms of gun violence and gang activity. He was arrested for pointing a gun at a police officer when he was just 16 years old, and for manufacturing and delivering heroin at 15. While under house arrest for the former offense, he recorded the video for "I Don't Like," his breakout hit that landed him a deal with Interscope Records, according to DNAInfo.
But the rapper insists he has changed, and this moment would likely have been proof. "No one ever gave me a reason why they didn't want the hologram to appear," Malcolm Jones, a promoter for Craze Fest, told the New York Times. "They didn't have a real reason. They believed that it would start trouble, but the first thing Chief Keef said via hologram was, 'Chicago, we need to stop the violence. Let our kids live.'"
Hammond's Mayor Thomas McDermott said he knows next to nothing about Chief Keef. "All I'd heard was he has a lot of songs about gangs and shooting people — a history that's anti-cop, pro-gang and pro-drug use," he told the New York Times. "He's been basically outlawed in Chicago, and we're not going to let you circumvent Mayor Emanuel by going next door."
The move has only left Keef's supporters more determined. "Shame on the mayor and police chief of Hammond for shutting down a voice that can create positive change in a community in desperate need," Alki David, chief executive of Hologram USA, said in a statement. "This was a legal event, and there was no justification to shut it down besides your glaring disregard for the First Amendment right to free speech. Mark my words, if you censor us, you only make us stronger."
The Washington Post looked into this First Amendment claim and concluded that it is likely a violation by the city of Hammond. "[I]t seems to me that, in America, performances by controversial singers can't be 'basically outlawed,' even 'in Chicago,'" writes Eugene Volokh, a University of California, Los Angeles, School of Law professor focused on free speech. Chief Keef may have really stirred up a debate far bigger than his own legacy with this one. This may be just beginning.