Hulk Hogan Uses Twitter to Ask Why Obama Can Use the "N-Word," But He Can't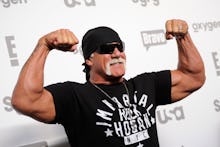 The Hulk Hogan implosion continued Sunday night after the embattled pro wrestler and reality TV star retweeted an ill-considered remark questioning why President Barack Obama could use the "N-word", but Hogan couldn't. 
"Bi-racial President Obama uses N word, is applauded and keeps his job," the tweet, originally from Twitter user Wolfshead Online, read. "[Hogan] uses N word, is vilified and loses his job." The retweet has garnered Hogan more negative attention, mainly because Hogan, who is white, used the word in a completely different (and racist) context than Obama.  
Hogan, whose real name is Terry Bollea, has received widespread criticism in recent days because of racist comments he made about black people several years ago, including using the word in question to describe a man his daughter Brooke Hogan had reportedly dated. 
Hogan's racist rant. The controversy erupted Thursday after the World Wrestling Entertainment mysteriously removed all traces of the famed wrestler from their website. It was soon after revealed that the company had pre-emptively "terminated its contract" with Hogan after audio tape of the wrestler going on a racial tirade came to light. 
The tape was from 2012 and was the subject of a $100 million lawsuit against Gawker, which published a sex tape of Hogan that year. The National Enquirer and Radar Online were the first to obtain and publish transcript excerpts from the lawsuit.  
"I mean, I don't have double standards," Hogan said on the tape, according to those sources. "I mean, I am a racist, to a point, f*cking n*ggers... I'd rather if she was going to f*ck some n*gger, I'd rather have her marry an 8-foot-tall n*gger worth a hundred million dollars! Like a basketball player! I guess we're all a little racist. F*cking n*gger." 
Hogan later apologized for using the racial slur. 
Hogan and Obama using the same word not the same thing. Obama indeed used the epithet in a recent interview on WTF With Marc Maron, but in a far different context. The president was discussing the progress of race relations, but also persistent racial inequalities in the United States, delivering a powerful statement on institutional injustice. "Racism, we are not cured of it, and it's not just a matter of it not being polite to say n*gger in public," the president said. 
After WWE cut ties with Hogan last week, scrubbing his profile and removing his merchandise from its website, the 12-time world wrestling champion has used social media to try and boost his image, frequently retweeting fans who offer their support for the famed wrestler.