Drake Is Firing Back at Meek Mill With New Diss Track "Charged Up"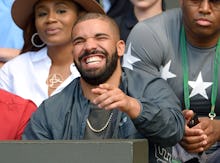 "Cops are killing people with their arms up / And your main focus is trying to harm us?"
Drake released a new diss track, titled "Charged Up," on his Beats 1 radio show Saturday night in response to fellow rapper Meek Mill's accusations of Drake hiring ghostwriters for his latest album, If You're Reading This It's Too Late.
Source: Soundcloud
Drake remained silent on social media ever since Meek Mill blasted the rapper for his relationship with Quentin Miller, a rapper and friend to Drake's OVO camp. Drake then released "Charged Up" almost a week after Mill called him out on Twitter.
Drake provides some serious shade throughout the diss track, alluding to his mere acknowledgement of Meek Mill's Twitter rant as "charity work." Drake also says other rappers are having trouble "going gold," and Meek Mill is just becoming another "so-and-so that no one knows." 
Miller, one of the rappers Meek Mill accused of being Drake's ghostwriter (who actually has writer's credits for several of Drake's latest hits, including "10 Bands," "Know Yourself," "Used To," "No Tellin'" and "6 Man") maintains he has collaborated with the Canadian rapper, but has never written anything that he hasn't received credit for. 
The Atlanta-based rapper writes on his Tumblr page, 
"Most of the project [If You're Reading This It's Too Late] was done before i came in the picture.. i remember him playing it for me for the first time thinking "Why am I here?" like.. what does he need me for?? The answer is..Nothing...I watched this man piece together words in front of me...Two artist in exact opposite spaces in their career..We came together and made something special..I am not and never will be a "ghostwriter" for drake.. Im proud to say that we've collaborated..but i could never take credit for anything other than the few songs we worked on together."
The music industry has been up in arms with some bad blood recently, as Meek Mill's fiancée and fellow rapper, Nicki Minaj, found herself in a viral feud with Taylor Swift last week just moments before Meek Mill blasted Drake with his accusations.
Minaj tweeted her frustrations over the VMA nominations this year that excluded her "Anaconda" video, arguably one of the most viral music video sensations of the year. 
Minaj's fiancé then tweeted later in the night that Drake had hired writers to produce the verse in the two's newest collaboration, Meek Mill's newest album, Dreams Worth More Than Money.
Still, Meek Mill doesn't seem impressed whatsoever by Drake's response to the allegations. He went back to Twitter Saturday night to voice his opinions of "Charged Up."