'I Am Cait' Is a Game-Changing Reality Show That Embraces True Reality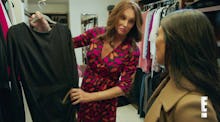 The run-up to I Am Cait, Caitlyn Jenner's reality series on E!, has been filled with questions the newly minted trans activist has been forced to face. Is she doing this for money or attention? No. Would the show acknowledge Jenner's privilege as a wealthy, white woman? If her journey so far is any indication, yes. 
Will a network known for Keeping Up with the Kardashians and other, lighter fare handle this story properly? 
E!'s head of programming Jeff Olde indicated in Jenner's Vanity Fair coming-out story that I Am Cait was the network's chief priority. "We understand the power and responsibility to be able to share this story," he said in the piece. "This is so far beyond television, on a personal level. If I get one thing right in my professional career, it will be this."
Olde will be glad to know that at least for the series' first episode, I Am Cait is a smash success, both in spite of its reality show format and because of it.
"Reality TV" can be a dirty term. It evokes the worst of the form, from the body horror of Fear Factor to the perceived vapidity of Bravo's programming slate. And yes, the Keeping Up with the Kardashian franchise, of which I Am Cait is unmistakably a part, has done much to make the form a punchline.
Yet at its best, reality TV has been not only groundbreaking, but incredibly queer-forward. The Real World's Pedro Zamora became a public face for gay men living with HIV/AIDS during his time on the show. No less than former President Bill Clinton spoke of Zamora's importance to the LGBT rights movement. He became a vital figure both in life and after his tragic death.
Even in smaller ways, reality TV made LGBTQ people more prominent, like America's Next Top Model's inclusion of fluid, gay and trans contestants. Big Brother has featured nearly two dozen LGBTQ houseguests, including the series' first trans cast member this season.
I Am Cait does that legacy proud. It is simultaneously educational and informative, gentle and transgressive. It takes time to teach its audience about trans issues, through the conduit of Jenner talking to her family. Her mother Esther, a kind but confused woman who just wants to understand, could easily be your own grandmother. She still calls Jenner "Bruce," but she's trying to transition along with him.
The show is so soft, you can forget how revolutionary seeing a trans woman's story being told on TV really is.
There are clunky moments of I Am Cait, each entirely thanks to its format. It's a show with remarkably little conflict — itself a progressive choice — that insists on making each break to commercial capital-D Dramatic. Unfortunately, that's probably not going to change; by its very nature, a show has to keep its audience interested. While moments like Kanye West's first meeting with Jenner are fun, there's a lot of attention to the greater Kardashian clan in the premiere. It all feels a bit staged.
Then Jenner goes to visit the family of Kyler Prescott, a 14-year-old transgender boy who committed suicide in May. It is, to indulge in a bit of hyperbole, one of the most impressive sequences in reality TV history. It is brutally honest, with Prescott's family telling Jenner it wasn't bullying in school or lack of acceptance at home that drove him to suicide. It was adults who couldn't accept him.
"I was proud of him for working so hard to be his authentic self," Prescott's mother Katherine says. "I knew nothing about it when we started. ... [But] from the very first day, I said, 'Sweetheart, I love you no matter what.' And unfortunately, not all transgender teens have that."
These stories resonate with Jenner because of her own darker moments. "I know how these kids can feel. I've had some very dark moments in my life," she said. "I've been in my house with a gun and said, 'Let's just end it here.' No more pain, no more suffering. That struggle? It's real, and I've been there."
The show is so soft, you can forget how revolutionary seeing a trans woman's story being told on TV really is.
That kind of reality can't be fictionalized. As great as shows like Transparent are, having a public figure not only come out as trans, but also then use her profile to highlight other trans people's stories, is irreplaceable. There's no telling how much good I Am Cait will do for Americans. The best we can hope for is that seeing Jenner's journey — and the journeys of those around her — will open their hearts.
"I loved him with all my heart," her mother Esther says of Bruce, near the end of the premiere episode. Then, she shifts. "And I certainly love her with all my heart."