Obama Fires Back at Huckabee, Trump and Republicans Over the Iran Nuclear Deal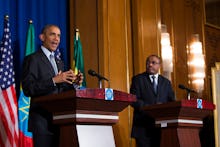 President Barack Obama defended the pending nuclear deal with Iran and fired back at a couple of its most vociferous critics during a Monday morning press conference in Ethiopia. 
Taking questions after arriving in the capital, Addis Ababa, Obama described some of the more pointed Republican attacks as being in line with a "general pattern" of behavior "that would be considered ridiculous if it weren't so sad."
In an interview with Breitbart on Saturday, Republican presidential candidate Mike Huckabee said the historic accord would pave the way for a second Holocaust. The president, he said, was marching Israelis "to the door of the oven" by signing on to the accord. "[The Iranians] don't have to do it in crematoriums over a span of eight years," Huckabee told Fox News later. "One nuclear blast and they could kill 6 million Jews."
Huckabee is now soliciting signatures for an open letter to Congress calling the agreement a "horrific, humiliating handout to Iran." 
Seizing on the public attention he and a number of the lesser GOP lights have been denied in the crowded primary field, Huckabee again used Holocaust terminology to hit back at Obama later Monday morning:
Jewish advocacy groups, including the Anti-Defamation League, have been sharply critical of Huckabee, saying in a statement that his rhetoric is "completely out of line and unacceptable."
Don't forget Donald: Earlier in the week, GOP primary frontrunner Donald Trump, in his own chat with Breitbart, called the U.S. negotiating team "grossly incompetent."
Speaking Monday, Obama sought to portray Trump and Huckabee as something more than outliers or sideshow characters. Instead, he suggested, their rhetoric was symptomatic of a deepening rot in the conservative movement.
"We've had a sitting senator call John Kerry Pontius Pilate. We've had a sitting senator who also happens to be running for president suggest that I'm the leading state sponsor of terrorism," Obama said, referring to comments made recently by Texas Sen. Ted Cruz. "These are leaders in the Republican Party."
In an extended riff, Obama — clearly frustrated by the tone of his opponents' rhetoric, both in a Senate hearing and on the campaign trail — accused Republican leaders of shedding crocodile tears in the aftermath of Trump's rant, last weekend, against Sen. John McCain (R-Ariz.).
"I recognize when outrageous statements like that are made about me that a lot of the same people who were outraged when they were made about Mr. McCain were pretty quiet," Obama said. During a candidate forum in Iowa, Trump questioned McCain's status as a "war hero," suggesting it was unearned because the former Navy pilot had been captured. "I like people who weren't captured," Trump said.
Despite hints of backlash among voters and a wave of denunciation from top Republicans, Trump has built and maintained strong poll numbers in both of the first two nominating contests. A pair of NBC News/Marist surveys released on Sunday showed Trump leading in New Hampshire and nipping at Wisconsin Gov. Scott Walker's heels in Iowa.
The president didn't name names on Monday, but he has clearly taken notice. 
"In 18 months, I'm turning over the keys," Obama said. "I want to make sure I'm turning over the keys to somebody who is serious about the serious problems the country faces and the world faces."
One assumes he does not count Trump and Huckabee among those sufficiently "serious" potential successors.