'Key & Peele' Are Calling It Quits — Here Are 5 Reasons We're Devastated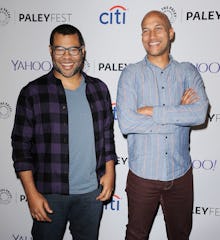 Laughter turned to grief over the weekend after comedic duo Keegan-Michael Key and Jordan Peele announced that the current season of their hit, award-winning show Key & Peele would also be its last. The suddenness of the announcement came as a surprise, especially given the show's rising profile and ever-growing popularity among Comedy Central viewers. 
Key and Peele, the show's co-creators, said they had been considering ending the show for some time, although there was some speculation of a rift in the pair's relationship. 
"It was just time for us to explore other things, together and apart," Key told the Wrap on Friday. "I compare it to Gene Wilder and Richard Pryor. We might make a movie and then do our own thing for three years and then come back and do another movie." 
The show's fifth season began July 8 and wraps up in September. 
Key & Peele debuted in 2012 to rave reviews. The groundbreaking and sometimes provocative sketch comedy series went on to win a Peabody Award in 2013 and received nominations for a Writer's Guild Award and an Emmy that same year. Key & Peele was nominated for four Emmys in 2014 and eight this year, the Wrap reported. 
Key and Peele, who were both cast members on MadTV for six seasons, took to Twitter to encourage their fans not to miss the series' final run. 
Fans of the series were quick to put the blame on Comedy Central; however, Key took to social media to quell their frustrations and to explain that it was the actors' decision, not the network's. 
From the 2012 Trayvon Martin shooting to President Barack Obama, the show has tackled some serious issues, but also finds room for respectful humor. Here are five reasons we're devastated by the loss of Key & Peele. 
1. No one could play Obama's angry alter ego better. One of the series' most memorable characters is Obama's "anger translator," Luther, played by Key. Luther can say the things Obama can't, turning the president's subtle statements into unrestrained harangues.
2. The show's variety of characters. From Italian mobsters to a pair of starstruck valets, Key and Peele have an extensive repository of personalities from which to draw inspiration. Their diverse brand of comedy resonated with Comedy Central viewers, who appreciated their fresh style. 
3. Its charismatic comedy duo. Key and Peele are masters of their trade, and talent like theirs doesn't happen all the time. "[Key and Peele] don't often get enough credit for acting the hell out of their scenes with style and pathos, giving their insane characters and emotional straight men more conviction and heft than their counterparts on narrative television," New York's Lucas Kavner wrote of the actors. 
4. The show deals with some tough issues with humor. Key & Peele often touch on issues of race and racial inequality in America and never shy away from making a solid and important point. The Peabody organizers write  that the show tackled "racially charged issues and ideas like no one else on television ...They break new ground even as they lay claim to all of comedy's traditions."
Key expressed gratitude that Comedy Central let the show be diverse. "We'd like to thank Comedy Central for giving us the opportunity to show the African-American experience as not a monolith, because it's not," he said, according to the New York Times. "It's so many different stories, and the danger of the world sometimes is trying to assign a single story to an entire group of people."
5. The show's conclusion marks a double whammy for comedy fans. The ending of Key & Peele comes at the same time Jon Stewart will be stepping down as host of The Daily Show. That means viewers will have to stomach two losses at once. One major disappointment at a time, please!