The Future of Sex Might Involve Spraying a Condom On Your Penis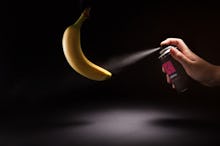 You're fooling around with your partner, talking in explicit detail about what, exactly, you want to do with each other, resulting in enthusiastic consent all around. Your partner asks if you have a condom, and you respond in the affirmative. 
Except there's a twist: Instead of unwrapping a Trojan and rolling it on like in the olden days, you're whipping out an aerosol bottle and spraying your dick like it's a bathroom pipe in need of some protective sealant.
Welcome to the age of spray-on condoms.
A progressive student project: Michele Chu, a student at Pratt's Munson-Williams-Proctor Arts Institute in Utica, New York, is creatively envisioning a future in which we will indeed be able to pick up a can of pregnancy and STD-repellent just as easily as we might grab some Off! before a camping trip.
"These spray-on condoms are made for the perfect fit, and function like spray-on bandages in the marketplace today," Chu wrote in the project's profile on Packaging Of The World, a packaging design blog. (Chu has not yet returned Mic's request for comment.)
"They also come in a set called the Lover's kit, which includes multiple parts like bras and remote controls to enhance our customers' experience. We create revolutionary spray-on condoms that are perfect for today's fast-paced environment." 
A remote control feature would also adjust the condom's "various effects, modes, and flavors," as well as remotely unclasp a "smart bra" included in the Lover's Kit. 
Making condoms cool again: Chu's design is just one of a slew of proposals attempting to reinvigorate the field of traditional contraception, including a patent for a remote-controlled birth control microchip implant and the terrifying-sounding "Electric eel" condom. But it's important to note that at this point, her concept is just that: As Chu told PSFK, she hasn't developed a working model for Girlplay yet, though she'd like to develop it further after she graduates.  
It's also worth noting that inventors have unsuccessfully attempted to make spray-on condoms before. In 2007, a German sex educator named Jan Vinzenz Krause came up with the idea for a line of spray-on latex condoms, which he dubbed "Jolly Joe." The condoms were intended to provide a more penis-hugging alternative to ill-fitting traditional condoms.
"The condom fits 100% perfectly, so the safety is much higher than a standard condom's," Krause told Time in 2008. "And it feels more natural."
Unfortunately, Krause's product failed to become a reality after user trials indicated that it took three minutes for the latex to fully dry. (The can also made a loud hissing noise, which was ostensibly a major boner-killer.) There's also the obvious question of whether a spray-on latex condom would be safe or as effective as more traditional alternatives, though the success of female spray foam condoms in the Chinese market is somewhat heartening. 
But regardless of the many head-scratching thoughts the concept of a spray-on condom raises — do you spray it head-on? Sideways? At the shaft? At the base? And how the hell do you actually get a spray-on condom off? — it's exciting to know that designers are doing their part to give the traditional condom a makeover. Considering the bad rap latex condoms get, we've been waiting for inventors to build a better prophylactic for years, to no avail. So if these babies ever show up on the market, we'll be the first in line to throw them into our shopping carts.
h/t Fusion