Florence + the Machine Ramps Up for Lollapalooza by Releasing an Epic Mini-Movie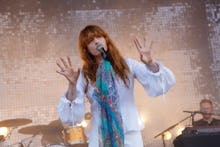 Florence + the Machine released a new 9-minute-long mini-film Monday, available to watch on NPR, just days before the band takes the stage in Grant Park in Chicago at Lollapalooza 2015.
NPR reports the film, which was shot on the Isle of Easdale, Scotland, and is currently only viewable over at NPR, features two new tracks, "Queen of Peace" and "Long and Lost." The band's combined music video is composed of striking visuals and a picturesque representation of the Scottish countryside, along with a high-drama narrative that connects the two songs together.
Florence + the Machine has been making its rounds in the festival circuit this summer, performing at Governor's Ball Music Festival, Glastonbury and soon to be headlining Lollapalooza 2015. Florence + the Machine are set to take the stage on Sunday, August 2, at 8:30 p.m. 
The band has been teasing the new mini-film for some time, posting clips from the video to social media.
The film, which Victor Haycock directed, shows the band's lead, Florence Welch, come into conflict with a raggedy group of the town's locals bent on causing violence and destruction. With powerful vocals, Florence goes from becoming a victim of the group to the healer that disarms the group and puts an end to their chaos. 
However, the band is hoping to do just the opposite at Lollapalooza this year. Florence + the Machine will be closing the festival's list of performances on Sunday night and is likely planning another wild performance to follow their incredible season in music festivals. 
You can find more details on Lollapalooza here.