These Are the Incredible Trans Women Caitlyn Jenner Considers Her Idols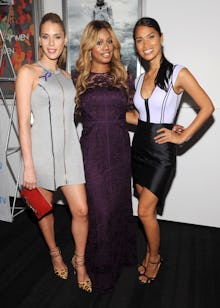 Part of what has made Caitlyn Jenner's coming out process so powerful has been her insistence on using her privilege for good. On her show, I Am Cait, she's spotlighting important trans issues like the suicide rate. She name-dropped several trans women, many of color, in her ESPYs speech. Even during her first interview as Caitlyn for Vanity Fair, she cited several trans women as inspirations.
"You look at some of the people, the pioneers who are trying to get the message out. Laverne Cox, Janet Mock, Geena Rocero, people like that. Carmen Carrera," she said in a video accompanying the piece. "They made it easier for me."
Without these women, Jenner may not have had the strength to come out. Each is extraordinary in their own way; each important to the trans rights movement. Together, they form a terrific team moving the needle forward together.
Laverne Cox
Cox needs little introduction. Other than Jenner, she's easily the most visible trans woman in the country. The Orange Is the New Black actress has been a close ally to Jenner during the latter's coming out process, but she's a massive star for reasons far beyond their association. In 2014, she became the first ever trans Emmy nominee. She is the breakout star of OITNB.
In August, she'll move from the small screen to the big one in the new Lily Tomlin vehicle Grandma. She'll also appear again in Orange Is the New Black's fourth season.
Carmen Carrera
She first came to fame as a contestant on the third season of RuPaul's Drag Race, but Carrera's greatest contribution has arguably been after the show ended. The former drag queen came out as trans and took her former show to task over their usage of the term "shemale." She remained a critic of host RuPaul's use of transphobic language, often to the detriment of her standing with the powerful drag icon.
Carrera's insistence paid off, with the show retiring those terms in its sixth season. She's continued to fight against bigotry and find work as an actress. She's set to appear in the Meryl Streep movie Ricki and the Flash next month.
Janet Mock
Cox's good friend and a powerful trans activist in her own right, Mock has been relatively quiet about Jenner's coming out, but for good reasons. Instead, she continues to focus on her own advocacy. She authored a memoir called Redefining Realness, was named a contributing editor at Marie Claire in 2014 and hosts Shift by MSNBC's So Popular. She makes routine appearances on talk shows and cable news. 
Geena Rocero
Rocero is a Filipino model who came out in a very 21st century way: during a TEDtalk. "Gender has always been considered a fact, immutable, but we now know it's actually more fluid, complex and mysterious," she said in a 2014 talk. "Because of my success, I never had the courage to share my story, not because I thought what I am is wrong, but because of how the world treats those of us who wish to break free."
Since coming out, she's become a strong advocate for trans rights. As she said in her talk, she was able to transition and find success, and she works because she's acutely aware not everyone feels the same. "Every day, I am so grateful because I am a woman."
Candis Cayne
An actress and artist, Cayne first came to national attention in the ABC soap opera Dirty Sexy Money. She played the trans mistress of William Baldwin's character on the show. This was 10 years after first transitioning; Cayne has consistently found work both before and after. Notably, she appeared in the 1995 cult hit film To Wong Foo: Thanks for Everything! Julie Newmar and in three episodes of Elementary on CBS.
She's one of Jenner's closest trans friends. The former Olympian's first public appearance as Caitlyn was to support Cayne during one of her performances. She'll also be appearing on I Am Cait.