This Pornhub Study Reveals a Surprising Truth About What Women Want From Porn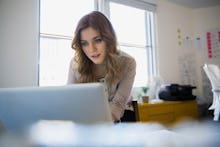 Everyone's favorite general interest website, Pornhub, has released a brand new round of data and insights, this time in collaboration with the Daily Beast. The website's report on female consumers' porn tastes, "What Women Want," offers a few familiar takeaways: Lesbian porn is the runaway favorite for women of all sexual orientations, getting eaten out is good, Kim Kardashian is the most popular "porn star" on the web, and so on and so forth. But one trend in the Pornhub Insights report stood out: 
Women are 113% more likely to view "hardcore" porn than men. They're also more likely to search for such terms as "gangbang," "rough sex" and "double penetration." 
The numbers don't lie: Women are super into hardcore porn. This is surprising for a few reasons. For starters, while we typically think of "gangbang," "fisting" and "double penetration" as hallmarks of male-oriented hardcore porn, it looks like ladies are getting off to the rough stuff as well. In fact, they might even be getting off to it more often than dudes are. 
The results stand in stark contrast to the central principles of "female-friendly" porn, which is based on the idea that ladies are more turned on by softcore, elegantly shot, story-driven onscreen fantasies (you know, probably because of all those extra emotions they have). Most of the porn in this vein features slower, more intimate sex, as well as an emphasis on female pleasure. In short, it's basically the opposite of the choking, spitting and slapping we typically see on hardcore tube sites on Pornhub.
But do women actually prefer "female-friendly" porn to the hard stuff? Research tells a different story. For instance, a 2008 study assessed the type of porn that heterosexual women were most likely to be physically aroused by. The results indicated that the more action there was onscreen, the more excited a woman got. Videos of masturbation elicited some arousal, but graphic videos of sexual intercourse elicited even more. 
Furthermore, A Billion Wicked Thoughts, a 2011 book by researchers Ogi Ogas and Sai Gaddam, found that while only 10% to 30% of women were interested in visual porn at all, the majority of those 10% to 30% of women had no interest in watching "porn for women." Instead, they preferred the hardcore stuff, which could explain why "lesbian scissoring," "gangbang," "extreme gangbang," "threesome" and "squirt" all made their way into women's Top 10 most-searched terms over the past year.
So is "porn for women" really just "porn"? While Pornhub's data and past research suggest that women might be more interested in hardcore porn than we think, it's important to keep in mind that these findings don't tell the whole story about female sexual desire. After all, obviously not all men are interested in masturbating to the same thing, so it follows that there'd be an equal amount of diversity in women's porn preferences as well. And given that only 24% of Pornhub's audience is female, we're clearly talking about a smaller sample size here.
That said, while we can't make any generalizations about women's porn predilections as a whole, the fact that so many women are into hardcore porn throws a wrench into the accepted narrative about female sexual desire. Clearly, many women don't prefer to watch gentle, soft-focus, intimate sex; some of them would rather just turn on their computers and watch some hardcore fucking. 
"Female-friendly" porn tries to make porn more palatable for women who are turned off by the objectification of women by focusing less on rough sex and more on female pleasure. But while that genre of porn has several laudable objectives, some women may just want to bypass it altogether and watch some good old-fashioned smut. That doesn't make them bad feminists. It just makes them horny humans who want to get off to some porn.