Confederate Flag to Remain Flying on Government Property in Mobile County, Alabama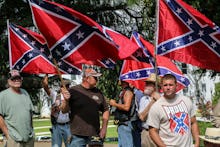 In light of increased attention on the significance of flying the Confederate battle flag, at least one Alabama county has decided it won't remove the image of the controversial banner from its government property.
On Monday, a measure to remove the flag from Mobile County property failed to get enough support from county commissioners, meaning it will remain on government property, including law enforcement vehicles, for the foreseeable future, FOX10 TV reported. 
One of the two resolutions up for consideration would have removed the flag from any land owned by the county, including the Government Plaza courtyard. The other would have scrubbed the image of the flag from Mobile County Sheriff's Office vehicles, according to FOX10. 
Southern states have faced increased pressure in recent weeks to take down the Confederate flag, widely considered a symbol of racism that many Southerners have embraced as a token of their heritage. The scrutiny comes in the wake of recent tragic events in Charleston, South Carolina, in which a 21-year-old white gunman shot 10 black people, killing nine, at a historically significant African-American church. 
The shooter, who admitted to targeting black people for his deadly shooting spree and drew his inspiration from white supremacist groups, embraced the flag as a symbol of his racist leanings. Photos that emerged online in the wake of the shooting depicted the gunman posing with the Confederate symbol. The shooter later confessed his crime to authorities and reportedly told investigators he had hoped his attack would start a race war, CNN reported. 
The shooting put a spotlight on the flag's history and sparked a national conversation about the power of imagery, race relations in the U.S. and the enduring meaning of a banner that has long served as a symbol of division and white superiority. South Carolina lawmakers ultimately voted to remove the Confederate flag flying on the grounds of the state capitol building in Columbia following weeks of heated debate, intense media attention and calls from around the country to take it down. 
Last month, Alabama Gov. Robert Bentley ordered the removal of Confederate flag from the state Capitol grounds, according to AL.com. "This is the right thing to do," Bentley told AL.com. "We are facing some major issues in this state regarding the budget and other matters that we need to deal with. This had the potential to become a major distraction as we go forward. I have taxes to raise, we have work to do. And it was my decision that the flag needed to come down."