A Lawsuit Claims Conan O'Brien Stole Jokes From Robert Kaseberg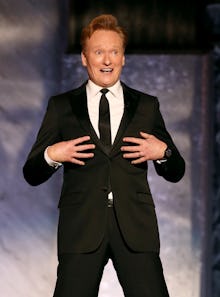 Comedy writer Robert Kaseberg has filed a lawsuit against Conan O'Brien, as well as TBS and writers for the Conan late-night talk show, for allegedly stealing jokes from the writer's personal blog and incorporating them into the redhead host's nightly joke segments.
The Hollywood Reporter writes Kaseberg filed the suit Wednesday in California Federal Court, citing four jokes Conan and his team allegedly lifted from the San-Diego based writer's personal blog and Twitter account.
Specifically, the jokes centered on current events like Caitlyn Jenner's transition, Tom Brady and a bit about the Washington Monument. 
Kaseberg alleges the first joke Conan stole from the writer's Twitter page was in a January 14 tweet reading, "A Delta flight this week took off from Cleveland to New York with just two passengers. And they fought over control of the armrest the entire flight."
Conan told a very similar joke on his late-night show that same day:
The complaint comes the same week another writer was successful in having Twitter delete jokes based on copyright grounds. The social media company is citing "intellectual property" when removing jokes that have been allegedly stolen from other users who have used the site to post their work. 
Conan's production company released a statement to the Hollywood Reporter reading, "We at Conaco firmly believe there is no merit to this lawsuit."