Mia Goth, Shia LaBeouf's Girlfriend, at Center of Chilling Video of LaBeouf Threats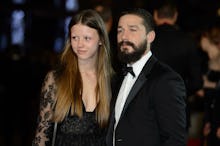 Mia Goth, longtime girlfriend of actor Shia LaBeouf, was at the center of a disturbing video reportedly filmed in Tubingen, Germany, in which LaBeouf is seen making vague threats of violence against the actress, Entertainment Tonight reported Monday.  
Goth was in Germany shooting a horror movie. The footage, taken by a German local, showed 22-year-old Goth and 29-year-old LaBeouf fighting outside a taxi cab Friday night near their hotel. According to HollywoodLife, eyewitnesses told local media that the couple had been arguing, and things escalated when Goth grabbed LaBeouf's backpack.
The video shows LaBeouf, who becomes visibly more upset as the argument goes on, repeatedly stating he doesn't want to hit a woman. "I don't wanna touch you," LaBeouf tells Goth. "I don't wanna be aggressive. This is the kind of shit that makes a person abusive." He then pleads with Goth to hand him back his bag and eventually takes off in a car with some fans who offered LaBeouf a ride to the airport. 
Later, in the car, LaBeouf tells a group of local men that, had he stayed behind, he "would have killed her." One German news outlet reported Goth was seen with a black eye on Saturday, the day after the fight between her and the Transformers star was caught on camera, according to New York Daily News. It was unclear if Goth's apparent injury was related to the altercation. 
LaBeouf and Goth met on the set of Lars von Trier's erotic film Nymphomaniac in 2012 and have been dating for three years. It was rumored the couple had gotten engaged after Goth was spotted wearing a ring in March. 
The fight between LaBeouf and Goth was the latest in a string of bizarre outbursts by LaBeouf. In June, video footage of the actor rapping shirtless went viral. It was later noted that LaBeouf had probably stolen the lyrics from a rap collective known as the Anomalies, according to the Telegraph. 
In September, LaBeouf, dressed in purple spandex and a bright green tank top, ran 144 laps around the Stedelijk Museum in Amsterdam as part of a performance art piece.