Taylor Swift Trolled Katy Perry With "Left Shark" at Foxborough Show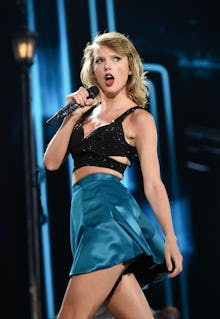 Taylor Swift seems to be throwing her "Bad Blood" to every other leading female artist in the music industry lately.
The 1989 singer was performing at a show in Foxborough, Massachusetts, when she seemed to have been told to look behind her during a routine choreography performance. A dancer wearing the infamous "Left Shark" costume from Katy Perry's Superbowl performance jumped up from behind her set, then quickly disappeared. Swift stopped to appreciate what appears to have been a prank by someone from her camp and laughed off the addition to her act.
Watch the moment below:
Swift and Perry have long disapproved of each other, and it all started from some sort of passive-aggressive interaction the two shared earlier in their careers.
"For years, I was never sure if we were friends or not," Swift told Rolling Stone in a 2014 interview. "She would come up to me at awards shows and say something and walk away, and I would think, 'Are we friends, or did she just give me the harshest insult of my life?'"
Perry tweeted a cryptic message directed at Swift the day after her cover for Rolling Stone came out last September:
The spontaneous shark in Swift's performance is where things truly get interesting. Perry had two backup dancers dressed as sharks in her Superbowl performance. While one was clearly a professional dancer (on the right), the other seemed to be completely unaware of the choreography. The "Roar" singer reportedly snatched the more professional dancer from Swift's camp — an act Swift describes as the ultimate betrayal. 
However, Swift's track record of feuds with other celebrities has recently taken her out of the good-girl limelight in which she's often portrayed .
Swift produced an entire music video in May pitting her squad of famous high-fashion model friends and actresses against each other in a replica of her star-studded feuds with women in Hollywood. 
Then she called out Nicki Minaj on Twitter last week for "pitting women against each other" when Minaj made a point about the MTV Video Music Awards that actually had nothing to do with Swift at all. 
Now that her tiff with Minaj has cleared up and she's sent out her apology, Swift seems to have gone right back to her fishy fight with Perry.