Inside the Early Days of Jon Stewart's 'Daily Show,' as Told by His First Correspondents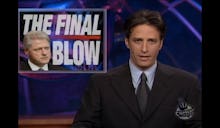 On Jan. 11, 1999, a nervous 36-year-old comedian, previously best known for minor roles in movies like The Faculty and Half-Baked, began his first day of work as host of The Daily Show. At home, Americans were consumed by fears that Y2K would bring about the apocalypse, Britney Spears' ...Baby One More Time dominated the charts and was available for unlawful download through a new web service called Napster. There was no Facebook or YouTube, and the White House website looked like this.
Jon Stewart, the new host of The Daily Show, was replacing late-night heavyweight Craig Kilborn, who hosted the show from 1996 to 1998. Many likely wondered whether the scrappy Jewish comedian from New Jersey would be able to measure up. 
Stewart did more than measure up. 
When the Daily Show host takes his final bow Aug. 6, it will cap the end of a 16-year run that has traversed wars, economic catastrophe and the daily obfuscations of Fox News. "It became a cultural force, not just a common program," former correspondent and Sirius XM radio host Frank DeCaro told Mic.
DeCaro, who worked as a freelance movie reviewer on the Daily Show from 1996 to 2003, said the change from Kilborn to Stewart was gradual but evident. "It really was a spoof of the news and of the news format and not so much a political show," he told Mic. "'I think [Stewart] made the show his own."
It begins. On a dark, painfully low budget set, wearing a ill-fitting suit, Stewart welcomed his audience for the very first time. The focus of the premier episode, which today's youngest Daily Show viewers may not even remember, was the impeachment trial surrounding the sex scandal between former President Bill Clinton and a then-White House intern, Monica Lewinsky.
The media response to the first episode was optimistic but guarded. The New York Times reviewer Peter Keepnews wrote, "Mr. Stewart holds it all together deftly. He interacts with the correspondents far more than Mr. Kilborn ever did, sending the message that even though its official name is now The Daily Show With Jon Stewart, the show is a team effort rather than a star vehicle." The New York Post was more effusive, concluding their review with what would prove a prescient observation: "Judging by the way the studio audience welcomed Stewart Monday night – with riotous laughter and applause – Daily Show fans will soon forget about Kilborn, if they haven't already."
It wasn't just media who saw something special. Former correspondents from those early days said working for the show produced some of the most memorable moments of their careers. 
"It was by far the best experience I ever had in show business," Vance DeGeneres told Mic. "It was one of these jobs that you kind of have to remind yourself that, no matter what else I do in this business, it'll never be this good." 
DeGeneres worked on the show between 1998 to 2001 and helped craft some of the earliest "news" segments of the Stewart era. Today he works in a number of roles behind the scenes, most recently as executive producer to the series Inside Comedy.
"At that time, we were still flying under the radar," said DeGeneres, who added the show's low profile was invaluable during "Indecision 2000," Stewart's first election coverage. "It made it a lot easier to interview candidates without them realizing that we are not a real news organization."
Beth Littleford, a correspondent between 1996 and 2000, remembered the show's humble beginnings. "Interviews started accidentally when I was interviewing John Wayne Bobbitt," she told Mic. "It just looked like a Barbara Walters walk and shoot ... 'Tell me, how is your penis today.'"  
Like the small town news reporters she was spoofing, Littleford recalled relentless travel and low pay. "My salary when I started was probably $700 every two weeks in the beginning," she said. "I don't know that I ever grossed anything more than minimum wage. I was like a charity case for my publicist."
The punishing hours ultimately led her to accept a more stable role on the ABC show Spin City. "I am not a news gal," she recalled. "I was tired and I had a sitcom job that was going to pay me a lot more and give me a cushy, goofy job that I loved." 
Despite the hardship, Littleford insisted that her time at the show was good overall. "Most of the time I was very happy."
A steady hand: Another broadcaster on hand for Stewart's arrival was Stephen Colbert. The Daily Show's "chief political correspondent" appeared on Stewart's very first episode, and was a cast member during the previous two years. A veteran of the Kilborn era, Colbert cut an experienced figure against the more untested new host. Speaking to Mic, multiple correspondents singled out Colbert as Stewart's in-house favorite. 
The two men spent their first on-air interaction discussing the potential of the Lewinsky trial as a merchandising event and the novel ways both sides could cash in. The deadpan schtick that would ultimately take Colbert to fame on his own show was already evident.
During his 16 years on the air, Stewart spoke with thousands of people, from presidents to military dictators to Nobel laureates, with a liberal helping of fellow comedians. The premier episode also featured Michael J. Fox, who wasted no time reminding Stewart just how new he was.
A mixed legacy. The portrait painted by other correspondents, like Lauren Weedman and Wyatt Cenac, depict a more nuanced picture of the much-praised host — undoubtedly a genius who raised touchstone political and cultural issues, but also one not immune to his own awkwardness, insecurities and outbursts.
In her 2007 book, A Woman Trapped in a Woman's Body (Tales From a Life of Cringe), Weedman described a host — and boss —  who could be as aloof and workmanlike offstage as dazzlingly funny on. In one anecdote, Stewart angrily left his makeup chair when Weedman jokingly asked about a mysterious "giant black cock" that had been uploaded to her desktop. "What are you talking about, Lauren," said Stewart, before leaving. Weedman wrote the makeup lady looked like she was "about to cry." 
"I was a pain in the ass because I was expecting to be treated like a peer," Weedman told Mic. "I drove him crazy; I drove myself crazy." Weedman added many comedians who wanted to see Stewart as a father instead found a tough, no-nonsense CEO. 
Weedman, however, pushed back against claims — many originating from her — that Stewart had a "woman problem." "It's not black and white for me... I could never, ever say that he hates women," she said, adding everyone deserved to be cut a little slack now and then. "I have difficulty with straight men sometimes," she joked. 
Some of Stewart's most memorable interviews, like with Jim Cramer or Chris Matthews, or his legendary Crossfire appearance, have come from people who came to speak to a comedian and instead found the dead-serious, acid-tongued activist underneath.  For his final week, Stewart has lined up a who's who of celebrity interviews including Amy Schumer, Denis Leary and Louis C.K. The guest slated to appear on his final broadcast so far remains a mystery. 
The Daily Show's new host, Trevor Noah, will air his first show on Sept. 28. 
Watch Jon Stewart's first episode here.