Jeb Bush Slams Mike Huckabee for "Unfortunate" Holocaust Remark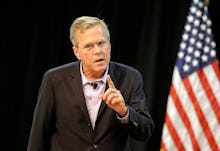 Former Florida governor and Republican presidential hopeful Jeb Bush took umbrage with his GOP opponent Mike Huckabee's comparison between the proposed Iran nuclear deal and the Holocaust, saying that such language would not help Republicans win the White House in 2016.  
During a town hall meeting in Orlando, Florida, on Monday, Bush slammed his competitor for invoking Holocaust imagery when criticizing President Barack Obama's foreign policy over the weekend. Huckabee, who was governor of Arkansas from 1996 to 2007, recently said the Iran agreement was basically like taking Israelis "to the door of the oven." 
"This president's foreign policy is the most feckless in American history," Huckabee said in an interview with Breitbart News. "It is so naive that he would trust the Iranians. By doing so, he will take the Israelis and march them to the door of the oven."
"The use of that kind of language is just wrong," Bush told reporters in response to Huckabee's comments, according to the New York Times. "This is not the way we're going to win elections and that's not how we're going to solve problems. So, unfortunate remark — not quite sure why he felt compelled to say it."
Bush's popularity in his home state has been steadily high in recent weeks, and he has been polling in third place nationally behind real estate tycoon Donald Trump and Wisconsin Gov. Scott Walker. Public Policy Polling data released July 22 showed Trump firmly leading the pack with 19% support among Republican primary voters. 
Walker trailed Trump at 17%, and Ben Carson and Sen. Marco Rubio followed Bush at 10%. 
Huckabee came in sixth, with 8% support among likely Republican primary voters. 
Bush, considered among the more moderate GOP candidate, has frequently called on his contenders to temper their inflammatory rhetoric. Following Trump's comments about Mexican immigrants, Bush, whose wife is from Mexico, lambasted the billionaire mogul for the "ugly" comments, saying Trump was just trying to get attention.