A Native American Activist Died in Police Custody and Nobody Is Talking About It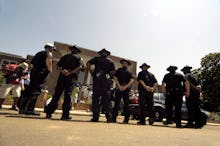 It's been almost two weeks since Rexdale Henry died in a Mississippi jail. Today, the civil rights activist and Choctaw tribe member's family is still looking for answers.
On July 14 at 10 a.m., authorities at the Neshoba County Jail in Philadelphia, Mississippi, allegedly found Henry dead in his cell. They claimed to have seen him alive for the last time just half an hour earlier, at 9:30. The 53-year-old's family told Fusion that two of Henry's ribs had been broken, though his official cause of death remains unclear. The Jackson Free Press reports that his body has been "flown to Florida for an independent autopsy paid for by anonymous donors."
He'd apparently been arrested for failing to pay an old fine.
This summer, we have witnessed numerous deaths of people in police custody, some prompting suspicion of foul play and law enforcement complicity. Sandra Bland, 28, in Waller County Texas, and Kindra Chapman, 18 in Homewood, Alabama, were both found dead of alleged suicide in their respective jail cells earlier this month, drawing widespread attention to police maltreatment of black women and girls.
But Henry's case conjures another overlooked disparity: Police violence against Native Americans. Mic reported previously that indigenous people in the United States have been killed by police at nearly identical rates as black Americans since 1999. Yet anti-indigenous state violence — much like anti-black state violence, until very recently — remains a topic many are loath to seriously address.
This violence does not always take the form of a gun to the head, either. From a very young age, Native peoples face some of the starkest health and quality of life disparities of any group in the country, from high poverty, high school dropout and substance abuse rates to some of the most staggering youth suicide figures in the country. Cumulatively, these gaps all stem from a long and ongoing history of government sanctioned murder, land theft, forced relocation and racial abuse.
Rexdale Henry's death also assumes extra significance considering the history of Neshoba County, where he died. In 1964, James Chaney, a black Mississippian civil rights activist, and Andrew Goodman and Michael Schwerner, two white New York civil rights activists, were found murdered and discarded in an "earthen dam" near Philadelphia after a Neshoba County sheriff's deputy arrested and released them, chased them down and then turned them over to the local Ku Klux Klan chapter. The incident went down as one of the defining chapters of Freedom Summer.
The day before Henry was arrested, 39-year-old Jonathan Sanders, a black man, also died after being choked for 20 minutes by a police officer in nearby Clarke County. The Mississippi Bureau of Investigation is looking into both his and Henry's deaths.
"At a time when the nation is focused on the terrible circumstances of the brutal death of Sandra Bland, it is critical to expose the many ways in which Black Americans, Native Americans and other minorities are being arrested for minor charges and end up dead in jail cells," Syracuse University professor Janis McDonald, who is helping Henry's family through the inquiry, said in a statement, according to the Jackson Free Press.
h/t News One
Correction: July 28, 2015