Macy Gray Just Penned an Ode to Her Vibrator, and It's the Best Thing You've Ever Heard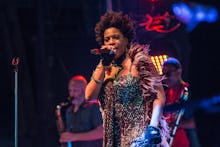 From Cyndi Lauper's "She Bop" to Divinyls' "I Touch Myself," there's a well-established tradition of ladies singing about self-pleasure. Yet we've never heard the joys of klittra spelled out quite so bluntly (or adorably, for that matter) as we have with Macy Gray's latest single, "B.O.B."
And who is Bob, you ask? None other than the raspy-voiced troubador's favorite battery-operated self-pleasure device. (Most vibrators run on USB nowadays, Macy, but we get your point.)
Gray's song is a frank and sunny ode to the virtues of her favorite toy. The accompanying video features a grinning anthropomorphized vibrator, who dances over the chorus: "B is for Battery / O, Operated / B is for Better 'cause he's not complicated, oh yeah."
And in case you're wondering, Gray pretends to have an orgasm somewhere at the bridge, around the 2:42 mark.
Bringing self-pleasure to the mainstream: Sure, a cartoon ode to a vibrator is a little bizarre. But even though the upbeat vocals and sunshine-y melody in "B.O.B." might sound a little silly, Gray has a lofty (and important) goal: She wants to help make it OK for women to talk about masturbation.
"I hope ['B.O.B.'] opens women up to talk about what's really real for them," Gray told Elle, adding that the song was borne out of her frustration with the double standard surrounding female sexual expression. 
Women "have to be so private about [their sexuality] and their periods, whereas guys can just talk about their penises and whatever. Girls always have to be so ladylike about it. I hope girls can start talking ... and just say the crudest stuff," she told Elle.
Not that this video is crude — in fact, it's downright cute.
Adorable as the video might be, in her quest to do away with the stigma associated with openly talking about female pleasure, Gray is not alone. 
Celebrities like Amy Schumer and Nicki Minaj have come forward to emphasize the importance of the female orgasm, while ladies like Rihanna, Lady Gaga and none other than Barbara Walters have also expressed their undying devotion to their vibrators. While "B.O.B." itself might be silly, the overarching goal behind it certainly isn't. Macy Gray just wants ladies to love themselves — over and over and over again. And getting women (and hey, maybe even teen girls) to talk about it sans shame may be the best way to get there.
Watch the full video for "B.O.B." below.
h/t Elle.com